La Hacienda Chiminea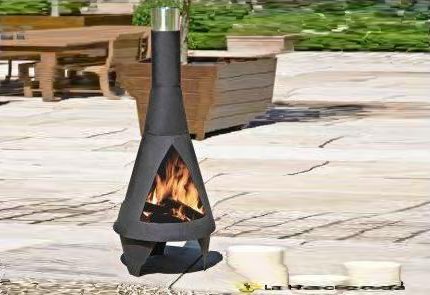 La Hacienda Colorado Chiminea
The design of this chiminea is just stunning. As well as being modern, elegant, sturdy and efficient, it is simple to put together and generates enough heat to efficiently cover a large patio or outside area. Family barbecues will never be the same again!
Chimineas have been used in Mexico for hundreds of years to provide families with a source of heating as well as a way to cook and bake. There are a variety of chimineas available in a variety of materials including ceramic, cast iron and aluminium.
They are an excellent way to heat a patio or outdoor space and at the same time provide a great alternative to the standard barbecue. Traditionally chimineas are front-loading, have a vertical smoke vent or chimney and have a spherical shaped body.
We at bestgardengadgets are particularly smitten with the La Hacienda Extra Large Colorado Chiminea. The design is sleek, modern and stylish and we think it would make an elegant focal point on any patio. But this chiminea isn't just about good looks!
The Colorado performs beautifully. It creates a phenomenal amount of heat making it ideal for medium to large patios. The design, as well as being stylish, is most effective at drawing the smoke away from the heat below.
The dimensions are 160cm high and 60cm wide. It conventiently burns all solid fuels, is of a straight forward construction and is finished in heat-resistant black paint.
We think you will be delighted with La Hacienda Colorado chiminea. With its brilliant combination of stylish looks and amazing heat, you'll never want to sit indoors again!