Smoking Gun for BBQ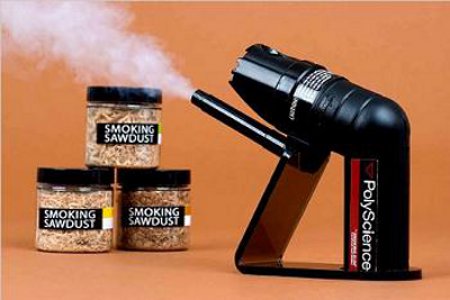 Smoking Gun for BBQ
PolyScience The Smoking Gun Handheld Smoker With Classic Smokehouse Assortment
Was it Colonel Mustard in the dining room with the candelabra? Or Miss Scarlet in the lounge with the dagger? No! It was you in the garden with the Polyscience smoking gun!
This potent promo pack provides you with everything you will need in order to infuse your food and drinks with smoky aromas and flavours. From meat and fish to vegetables and even beverages, the Polyscience Smoking Gun equips you with the necessary tools to experiment with your favourite flavours and foods.
Each pack contains a Polyscience Smoking Gun tool, acrylic stand, 18 inch nozzle extender hose, four AA batteries and a smoking sawdust instruction guide as well as five 500ml pots of wood chips; cherry, apple, hickory, whiskey soaked oak and bourbon soaked oak.
The main benefit of the Polyscience Smoking Gun kit is that you can smoke your favourite dishes without grilling or flame broiling. So what are you waiting for? Add a new feature to your barbecues and garden parties! Pick your favourite flavour and get experimenting! Cigar-smoke infused Manhattan anyone?