Electric BBQ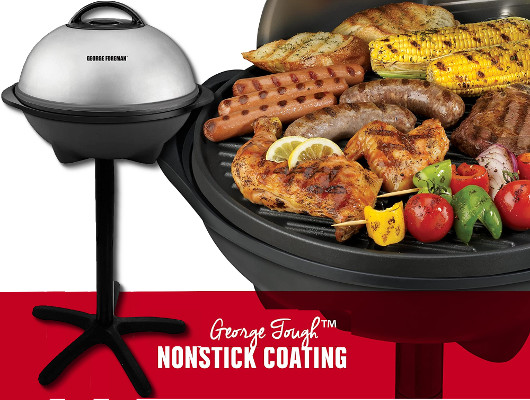 George Foreman
Cooks upto 15 portions
Indoor & Outdoor Cooking
Non-stick, easy clean
Temperature Control
Removeable Stand
George Foreman Electric BBQ
This incredibly useful electric bbq grill is a versatile piece of cooking equipment. The convertible style allows the grill to be removed for table top cooking or presentation. This electic barbecue can also be used inside and outside. Far from being at the mercy of bad weather, you cook on this electric bbq either in the garden, on the patio or in the kitchen.
Great Size
You will find the George Foreman electric grill is a very accomodating size. It will cook up to 15 portions at a time, holding an impressive amount of food that is cooked evenly.
Indoor/Outdoor Removable Stand
The stand that comes with the George Foreman grill is easy-to-remove. In no time at all you can be cooking wherever is the most convenient for you and your guests. In brilliant sunshine it is great to get the barbecue out in the garden. However, when the invites have gone out, it is reassuring to know that you will still be able to cook a great bbq meal come rain or shine.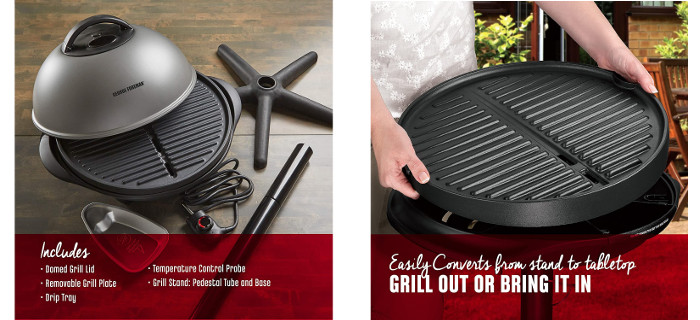 Non-stick Coating
Having a non-stick coating is really convenient when you are cooking. The added benefit is that it is durable and also easy to clean. Because this surface is non-stick, it also removes the need to add butter or oil during the cooking process, if you so wish.
Temperature Control
Having the ability to cook at high temperatures and also being able to control that temperature is one of the secrets of great cooking. With your George Foreman electric barbecue grill, you have a choice of 5 heatsettings so you can achieve the best results, whatever food you are cooking.