Top 5 BBQ Garden Gadgets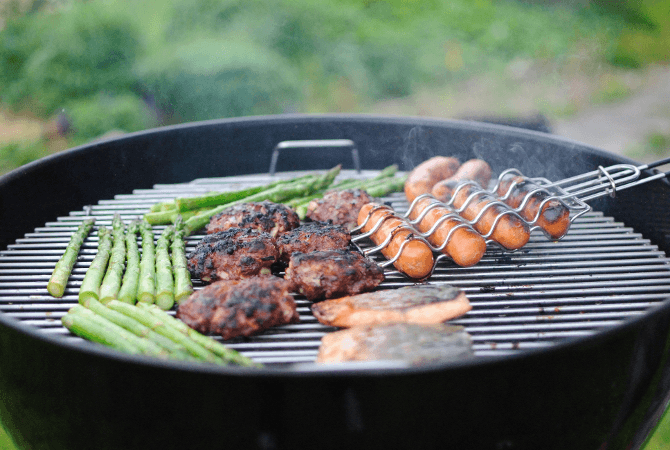 The whirr of lawn mowers, the delicate aroma of sun tan oil and the return of your hay fever can only mean one thing: it's time to drag the coal from the shed, purchase your weight in raw meat and fire up the barbecue!
Whether you are a seasoned barbecue expert or a budding novice, when confronted with the prospect of cooking in the open for a large group of people, it pays to have the right tools for the job.
Here at Garden Gadget Zone we have put together our list of the top 5 bbq garden gadgets that we think will make your life a whole lot easier when it comes to hosting a barbecue. With the help of these simple yet well designed gadgets we will have you marinating, sizzling and smoking your way to the finest barbecue banquet the neighbours have ever witnessed.
Weber's Way to Grill
Expert Guidance at your fingertips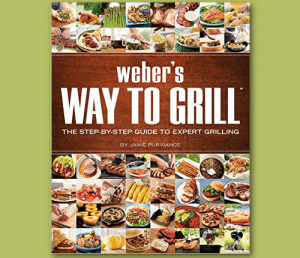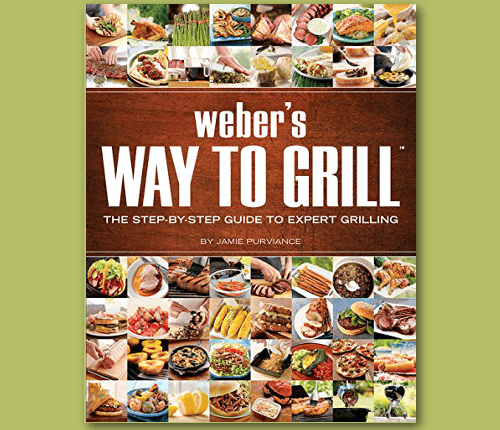 You wouldn't attempt boeuf bourguignon without the aid of a recipe book would you? Or use a new kitchen appliance without consulting a reference manual? There is no chef, new or experienced who would not benefit from the insights and advice that is packed into Weber's Way to Grill.
Penned by Jamie Purviance, world renowned author, grilling expert and resident master griller at Weber, this books is packed with invaluable advice about every aspect of barbecuing that you are sure to find enlightening, helpful and more than likely, indispensable. The recipe ideas are delightful, offering great ideas that will appeal to everyone from the novice barbecue cook to seasoned barbecue chefs who want to elevate their repertoire above the mundane. The advice covers everything from which barbecue to choose right through to advice on how to clean it when the evening is over.
Check out our review on Weber's Way to Grill for more information.
Grill Beast Stainless Steel Meat Injector Kit
Injecting Flavour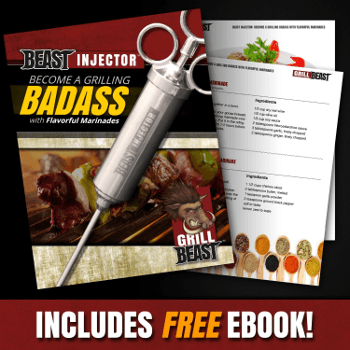 Once you have decided on your menu, the next important process of any barbecue is to prepare the food. The best way to ensure that cuts of meat are tender and full of flavour is to marinade them beforehand. Meat left to soak longer stands a better chance of penetrating the meat fibres, but all too often the result is a piece of meat that is flavoured on the surface, but deep down lacks flavour and may be dry once cooked.
If you want fast results, the quickest and most efficient way to tenderise and flavour meat is with the help of a Grill Beast Stainless Steel Meat Injector Kit. This well designed gadget has needles that penetrate deep within the meat, distributing either liquid or thick marinades exactly where they are needed. No more joints of meat that are soggy but flavoursome on the outside, but dry and bland deep down.
It is versatile enough to work on any texture meat and is a great way to ensure your food is tender and flavoursome with no hassle.
Check out our review on the Grill Best Meat Injector for more information.
Weber Chimney Starter
It all starts with fire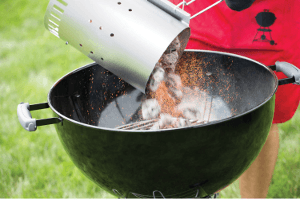 If you have ever witnessed or experienced the embarrassment of a barbecue that just refuses to light, you will understand the importance of getting your barbecue lit quickly and efficiently so you can get the food underway on time. Don't bother with lighters or fire starters, the best bbq gadget for this task is a Weber Chimney Starter.
With a handful of newspaper, your charcoal and a match, you can have hot coals in under 15 minutes and have the barbecue well on the way. The unique design of the Waber Chimney Starter will enable your coal to light rapidly and evenly. Instead of getting hot under the collar, you can keep your oool and get that barbecue lit in record time!
Check out our review on the Weber Chimney Starter for more information.
MaxyLife Heat Resistant Gloves
Gloves on, Seconds out, round one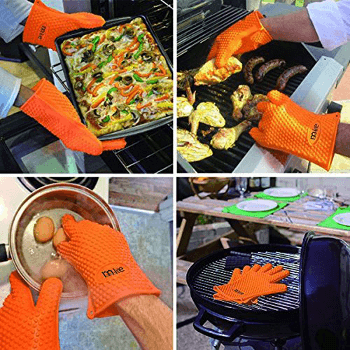 Barbecuing food on a naked flame to high temperatures in front of a horde of hungry guests can require a delicate balance of skills. Safety and hygiene are of the utmost importance but can easily be let slip when the chef is under pressure. For a hands on approach to barbecuing that ensures you stay clean, dry and safe from burns we recommend MaxyLife Heat Resistant Gloves.
These gloves can be used throughout the barbecue process from initial food preparation right through to cleaning up afterwards. These silicone FDA approved gloves are temporarily resistant to high temperatures so therefore can be used to manually turn food on the barbecue. They will keep your hands dry in water, prevent burns during the cooking process and due to their hard to miss vibrant orange colour, will always be easy to find! We are sure you will find these gloves indispensible, and highly recommend them as an invaluable gadget to have around the barbecue.
Check out our review of the MaxyLife BBQ Gloves for more information.
Alpha Grillers Instant Read Thermometer
Is it ready yet?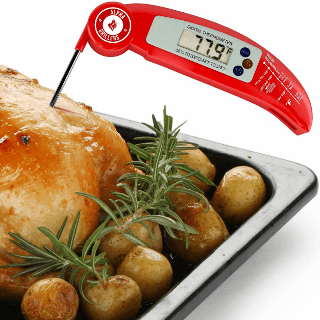 It is essential that all food prepared on a barbecue is thoroughly cooked throughout before it is comsumed. Unlike conventional ovens, when barbecuing, it is usually rather more difficult to ascertain if a piece of meat that is clearly cooked on the outside has definitely been sufficiently cooked in the middle. A really useful BBQ gadget that will solve this dilemma is the Alpha Grillers Instant Read Thermometer.
With a comprehensive temperature range of -50ºF to 572ºF, this thermometer is ideal to accurately guage the temperature on a whole range of food products and even liquids such as oil, milk and water. The Alpha Grillers Instant Read Thermometer folds up when not in use so can be slipped in your barbecue apron pocket until it is needed. The narrow probe is inserted into the meat for approximately 4 seconds to gain an accurate read out. This makes it an invaluable item to have in your repertoire of BBQ garden gadgets.
Check out our review of the Alpha Grillers Meat Thermometer for more information.
Ultimately, barbecuing is an attempt to get back to the basics of cooking simple food on an open fire. On this occasion we think we have tracked down some BBQ garden gadgets that will enhance your barbecue experience and help you to produce the standard of barbecue food to which you aspire without compromising your cave man instincts to unite raw meat and a naked flame. We think all these items will prove to be invaluable assets when cooking outdoors and we have no hesitation in recommending them as our top 5 BBQ garden gadgets.
If you have a particular favourite gadget that you find indispensable when grilling then we would love to hear about it.
Check out our Entertainment page for lots more Outdoor Garden Gadgets.
Bon Appetit!