Summer Garden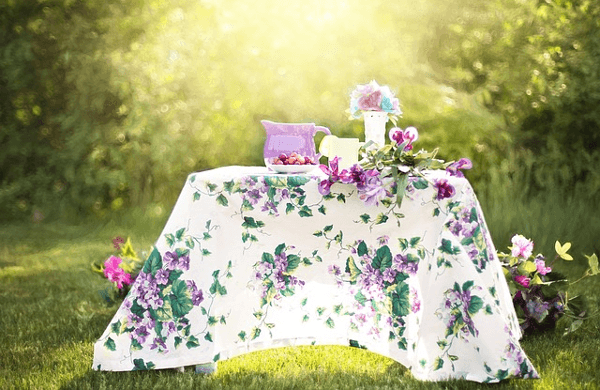 The sun is out and the birds are singing. It's official; Summer has arrived! As the purr of electrical garden gadgets begins to be heard above the strains of the TV, there is not a moment to lose if you want to make the most of your spot in the sun this summer.
It doesn't matter if you didn't get those petunias planted, or that you haven't found time to nurture the lawn to Wimbledon standard, not to mention that new water fountain that has been sitting in the garage since Christmas! Even if you are the most conscientious of gardeners, there are always going to be more jobs you could do. So, if you're eager to break out the BBQ but want to spruce up your garden first then here are some of our tried and tested speedy Summer fixes that should help you achieve an idyllic summer garden:
Opt for lightweight, versatile furnishings
If you are short on time, or if this is the first year you have spent in your current garden, then it is best not to be too ruthless in clearing areas that you may think have nothing to offer. Instead, we recommend making the most of what you have available. As long as you cut the grass, set up the barbecue and add a few fairy lights, some lightweight lawn furniture and a patio heater for cool evenings then you're good to go! After all, these types of versatile, easy to move garden furnishings can be effortlessly moved into perfect position next year when your garden is preened to your liking.
If you don't use it, lose it
A tidy room makes for a tidy mind so why not apply the same rules to your garden? It might be too late to turn your back yard into Shangri-la this year, but all is not lost. The first thing to do is take stock. Is your shed cluttered with lawn furniture that has never seen the light of day? Does your patio have party potential if you clear away the moss, weeds and bric-a-brac? In most cases, you don't need to be a professional landscaper, all you need is a good set of gardening shears, a lawnmower and an honest eye. If you have any garden furnishings and tools that you no longer use then sell, donate or throw them away so that you can make room for new decor.
Take out the trash
If your garden is a complete shambles (you know who you are), it may even be time to rent a skip and hire or buy a flame thrower. (uk version) Flame throwers are a quick way to get on top of those determined weeds who fight back. However, all heavy duty power tools should be used with extreme caution and care in the absence of all children and pets. Once you have cleared the garden of waste and weeds you can begin to take stock of how you would like your garden to look.
There are gardeners and handymen who will be only too willing to clear your garden for you at a reasonable price. Do it. It's an investment. Look at it this way; how much would it cost to add another room to your house? Not using your garden because it is too big a job makes poor economic sense. Whether it is by the sweat of your own brow, or someone else's whom you have hired, clearing your prime outdoor space will enable you to start enjoying your summer in style.
Savour the small things
Once your garden has been cleared, either by you or Mr Fixit, the fun of creating your new room can begin. Add some garden chairs and a set of outdoor lights to create a little spot where you can sit comfortably. There are plenty of exceptional books on garden design, simple and grand, that you can use to gain inspiration on how to style your outdoor oasis. There are also a wealth of handy online resources that will help you to design your ideal garden according to your personal style preferences. A patch of lawn, an illuminated garden path, perhaps even a water feature. Once you have devised a plan you can begin to implement these changes over time. Who knows, you may be a budding Percy Thrower or Alan Titchmarsh yet! The trick is to take things slowly, start small and work your way up. The more you come to enjoy your outdoor space, the more you will feel inclined to tackle the rest; little steps, you will get there in the end.
'I have never had so many good ideas day after day as when I worked in the garden' ~ John Erskine
Create an eye-catching focal point
So you have a lawn, some flowers and a patio but it's just not there yet. What your garden needs is some dressing up. How about a rock fountain water feature? They don't have to be complicated; many modern water features are completely self-contained with no need for extensive plumbing. Similarly, awnings are a great way to perk up a patio in the daytime.
How about a featured spot with a statue? There are some really beautiful garden ornaments to be enjoyed. If you like accessories with an edge then you could even invest in a zombie gnome or zombie statue. The possibilities are endless! The hidden delight about gardens is that they really are addictive. The buzz of creating something, the therapy of working with your hands then being able to enjoy the fruits of your labours, is immeasurable.
My garden is my most beautiful masterpiece ~ Claude Monet
Indulge in some Al Fresco evening ambiance
Summer evenings are a grand time to enjoy your garden and a few well-placed lighting features can add instant magic to any lawn. From fairy lights to solar lights, there are so many amazing light features on offer that will add an instant welcoming atmosphere at the flick of a switch. Throw in some comfy furniture, a drinks cabinet and an outdoor music system and you may never go back indoors again.
Bring out the big guns
Family BBQ? We've got you covered! If you are at all sporty there are some great garden games such as the airzooka, the sports net and water slides. Not sporty? Then break all the rules and invest in a quadcopter. These hi-tech garden gadgets are incredibly fun to manoeuvre and the on-board camera means you can check on the veg at the bottom of the garden without even having to leave your seat.
If you are a sports fan, music fan, or you just love TV, have you considered a giant garden TV? A great hit at parties, garden TVs are the ultimate outdoor accessory for summer soirees and will make you the envy of your neighbourhood! Invite a few friends around, put on a summer film that everyone can enjoy and break out the barbecue. What more could you ask for?
Ultimately, whether you have a small spot in the sun or a vast back yard, the summer is a great time to make the most of the good weather and the unlimited possibilities of your own outdoor space. By following our speedy Summer fixes you can create a welcoming outdoor environment for relaxing, entertaining or simply spending some pleasant evenings daydreaming about future plans.
So why not get yourself out in that garden for a few hours this summer? You can gain a whole new perspective on what you think is important and what irks you most. Sitting in the garden and working in the garden is the cheapest therapy you are ever likely to find, and it's right on your doorstep!
If you'd like to discover some amazing garden gadgets just in time for summer then please feel free to explore our extensive product pages online today;