Grill Light for Barbecues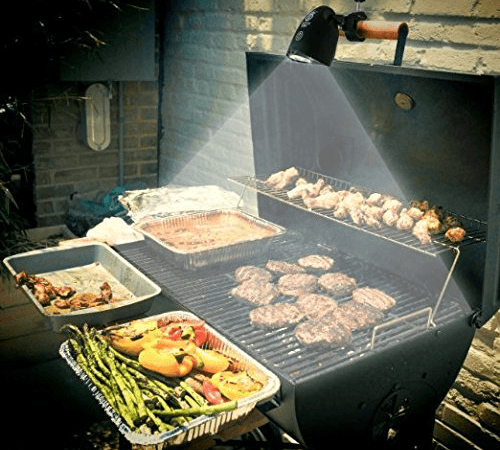 Universal Fitting
Dimmable
Easy to Install
360 degree rotation
Heat & Water Resistant
Sensor Touch On/Off
Everyone is having a great evening. The night is balmy, the conversation and the liquid refreshment are flowing freely and nobody wants the evening to end. It seems natural to keep the barbecue going all the time there is food left and guest to eat it, but the night has drawn in, you need some illumination if you are going to carry on cooking and those fairy lights just won't cut it!
Wouldn't it be great to have a light that illuminates the barbecue right where you need it the most? Something that gives a really bright light but you can move it around to spot where you need it? What you need is the Home Approved number one BBQ Led Light!
BBQ Led Grill Light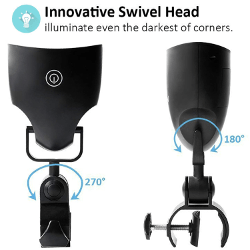 This light has been designed specifically for the purpose of use around a barbecue. The light is activated by tapping the painted circle on top of the light, so no need to fumble in the dark with greasy sticky fingers to find an "ON" button. The ultra bright BBQ Led light has 10 super bright LED lights with a luminous flux of 105 lumens that illuminates the entire grill surface.
This illumination which can be directed exactly where you want it and the mounting clamp means it will grip to a wide range of cylindrical or piped-shape objects so you can find the best position for the optimum visibility. Made of durable Nylon Glass Fibre, these lights are weather resistant against light rain and heat up to 356F.
These lights are suitable for gas, charcoal or electric barbecues. But their versatility does not stop there. The portability, brightness, energy efficiency and durability of these BBQ Led Lights makes them ideal for a whole range of activities where light is needed including camping, reading, biking, indoor and outdoor wherever light is poor and accessibility with other lighting is difficult.
BBQ Led Grill Light Features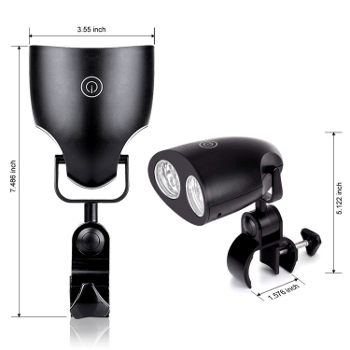 There are no wires or trailing leads to worry about with this BBQ led light which runs on 3AA batteries
One set of batteries should give sufficient illumination for approximately 20 hours
This BBQ Led Grill Light is made of heat resistant ABS materials
The 190 degree horizontal and vertical adjustment mean the light can be positioned accurately to light up the entire grill
The adjustable C-clamp fits most grill handles up to 1.65 inches in diameter
This grill light is easily activated by tapping the painted circle on top of the light
This BBQ Led Grill Light earns its place as one of the most versatile, efficient and useful gadgets to have around when firing up the barbecue. If you are planning some late night barbecuing, check out one of these lights. It could be illuminating!