Top 5 BBQs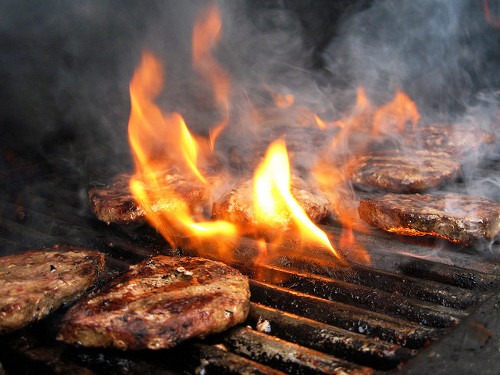 It's time to fire up those coals and grill your favourite burgers, ribs and sausages! Whether you are a seasoned barbecuer or if you have recently discovered the joys of hosting a barbecue for family and friends, then the following barbecues will enable you to grill, smoke and sizzle all of your favourite foods in your very own garden.
Top 5 BBQs Weber 741001 original kettle 22 inch charcoal grill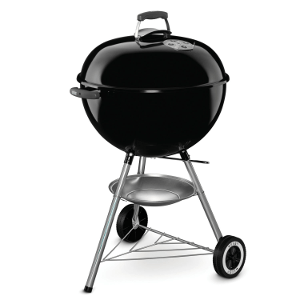 If you're looking for a BBQ that will cook multiple dishes at once then the Weber Charcoal 22 1/2 Inch Grill is the ideal choice for you! This kettle grill features a 22 1/2 inch diameter plated-steel cooking grate which will equip you with up to 363 inches of total cooking space for grilling, charring and skewering your favourite foods!
One Touch Cleaning System
What's more, the Weber Charcoal 22 1/2 Inch Grill has been fitted with a revolutionary One-Touch cleaning system that will sweep all of the ash generated by your kettle grill directly into a removable, rust-resistant aluminium ash catcher. If you'd like to learn more about the impressive cooking and cleaning powers of this state of the art kettle grill, why not check out our in-depth Garden Gadget Zone product description online today?
Top 5 BBQs Weber one-touch original 1341504 barbecue 57cm Black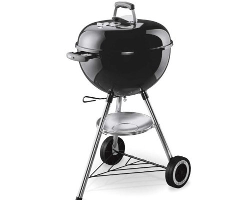 Chefs in need of a large yet easy to assemble BBQ will love the Weber One Touch Original Grill. This state of the art 63cm by 63cm by 39cm kettle grill enables you to cook a wide range of ribs, burgers, hot dogs and steaks at the same time without compromising on cooking space or flavour!
Fitted with Weber's patented dampener system, this high tech kettle grill enables you to monitor and adjust its interior cooking temperature without even having to lifting the lid; perfect for sealing in that delicious BBQ flavour! You can learn more about this exceptional kettle grill by checking out our full Garden Gadget Zone product description online today.
---
Top 5 BBQs Weber Smokey Mountain Cooker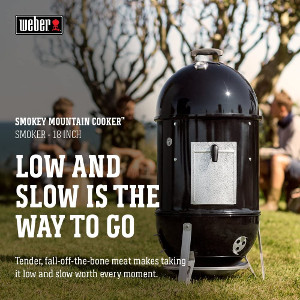 Weber
Steel
Choice of Sizes
If you are looking for a superb slow smoker then the Weber Smokey Mountain Cooker is the perfect unit for you. Based upon the renowned Weber Kettle-Shaped Cooker, this 14″, 18″ or 22″ bullet-shaped Weber Smokey Mountain Cooker can smoke all manner of meats; from ribs to a large brisket.
All you have to do is place charcoal and wood in the bottom of its porcelain-enamelled bowl, pour water within its centre bowl and add your preferred meat upon its triple plated cooking grates. Heat and smoke will then travel around the sides of the cooker and out of the aluminium vents in order to cook your meat at optimum temperature and moisture levels.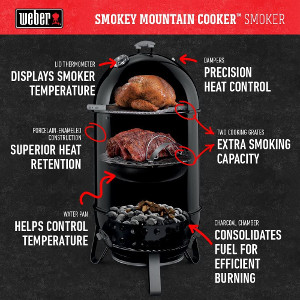 Although the Weber Smokey Mountain Cooker differs from traditional summertime barbecue grills, once you have tasted its smoky culinary creations you will never look back!
Top 5 BBQs BBQ Tower Multi-Level Charcoal Barbecue Grill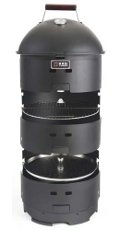 If you intend to host a barbecue party for multiple guests then you can often be faced with numerous cooking dilemmas. For instance, with many conventional grills you will have a limited amount of space on which to cook different foodstuffs; all of which have different cooking times. Fortunately with the BBQ Tower you can avoid these problems completely and enjoy relaxing outdoor occasions with your guests.
The solution is simple; the BBQ Tower boasts an ingenious column design that consists of three separate cooking levels that can be heated independently with charcoal. The BBQ Tower arrives assembled and is fitted with wheels for hassle-free manoeuvrability. Consequently you can quickly and easily cook all of your favourite barbecue foodstuffs to your heart's delight!
Top 5 BBQs Fire Mountain Ceramic Outdoor Oven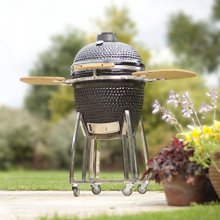 Similarly to the Weber Smokey Mountain Cooker, the Fire Mountain Ceramic Outdoor Oven adds an alternative spin to conventional barbecuing occasions. Its egg-shaped design is based upon Japanese clay cooking and as such this outdoor oven can cook a variety of foods; including pizzas, meats and breads as well as your conventional barbecue favourites.
The ceramic walls of the Fire Mountain Ceramic Outdoor Oven contain the heat generated from charcoal, and the air vents within the bottom and top of the oven facilitate a precise and even airflow. What's more, this outdoor oven also features a round temperature gauge so that you can ensure your food is cooked exactly to your liking. What more could you want?
The Best Garden Gadgets
We at Garden Gadget Zone believe in bringing you the best Garden Gadgets. In our opinion, these 5 barbecues are the best that are out there. Choosing the ultimate best barbecue for you we think is down to your personal needs, preference for design and budget. Good luck making that choice; our verdict is they are all winners!