Grill Beast – 304 Stainless Steel Meat Injector Kit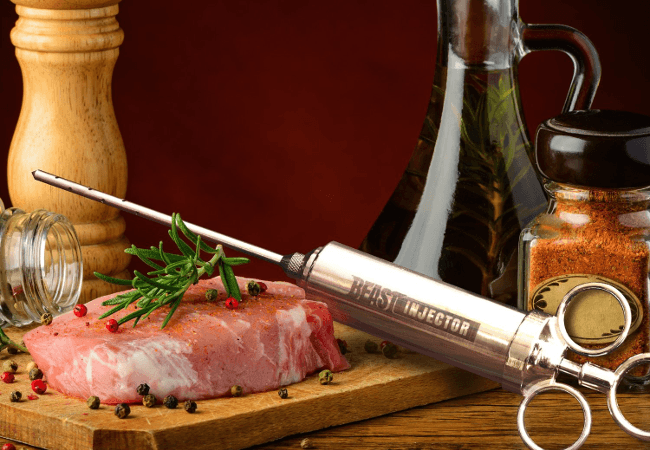 Grill Beast – 304 Stainless Steel Meat Injector Kit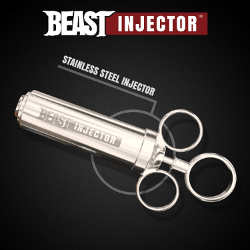 Marinading is a great way to tenderise meat to ensure your barbecue dishes are succulent and delicious. But it is not without its problems. Just for how long should you marinade? If you don't remember to diligently prepare your meat hours in advance do you worry you may be dishing up meat with the succulence and consistency of leather? If the marinade does not soak right through, the centre of the meat fails to benefit from any tenderising and flavour.
Well, now there is a solution that is simple, efficient and works in a matter of minutes. Grill Beast have come up with a stainless steel meat injector kit that ensures you will never have to compromise on flavour again.
How does the Grill Beast Work?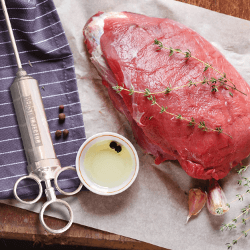 The Grill Beast is designed to penetrate deep within the meat you want tenderised to deliver the flavours you want. It will deliver marinade efficiently deep within your favourite meat, including brisket, pork, chicken, turkey, lamb, goose, duck and more. With two specially designed six inch needles that are durable and sharp, any meat or poultry can be penetrated with ease, ensuring you can enrich the taste of tough or thick cuts alike.
The contents of the 2 ounce barrel are delivered quickly and evenly. One needle is solid with an angled cut, ideal to deliver chunky marinades. The second needle contains 12 delivery holes which efficiently inject liquid. The large barrel means less stopping and less refills and the sturdy plunger offers an impressive pressure control.
The three ringed handle provides a comfortable, ergonomically designed grip for ease of handling and to ensure you can guide the marinade exactly where it is needed. No thought has been spared in the design of this efficient barbecue gadget which ensures your meat will be flavoursome throughout. The Grill Beast meat injector is also dishwasher safe for ease of cleaning.
What does the Grill Beast Meat Injector Kit Include?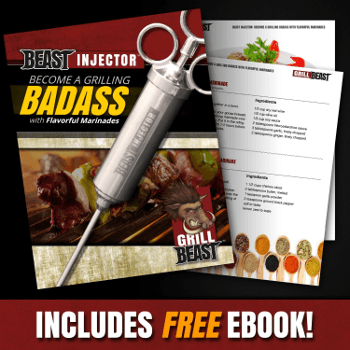 A high quality stainless steel meat marinade injector that is dishwasher safe
Two needles to cope with marinades of varying consistency
A two ounce barrel that holds more for less refilling
Ergonomically designed handle for comfortable use
Access to Grill Beast's excusive VIP program
A Beast Injector ebook that reveals the latest techniques and helpful tips for creating mouth-watering recipes that will make your barbecue the best!
Never settle for dry or food lacking in flavour again. No more meat that is tasty on the surface, but a disappointment in the middle. Check out a Grill Beast Meat Injector today and get cracking with those flavours!