Outdoor Movies Screen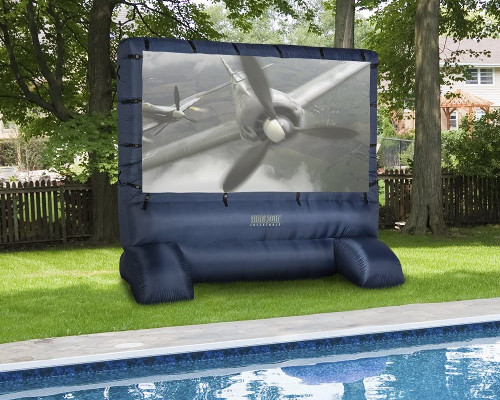 Height 12ft x 11.5ft
Screen: 123″ x 70″
Stakes & Tethers included
Storage Bag Included
2 Built in Fans
Inflates in Seconds
Outdoor Movies Screen
Outdoor movies are a great way to spend an evening with family and friends. But have you ever considered how wonderful it would be to have the luxury of an outdoor cinema in your own back garden? Now you can bring outdoor movies night home and make it your own with this amazing home cinema screen!
Huge Screen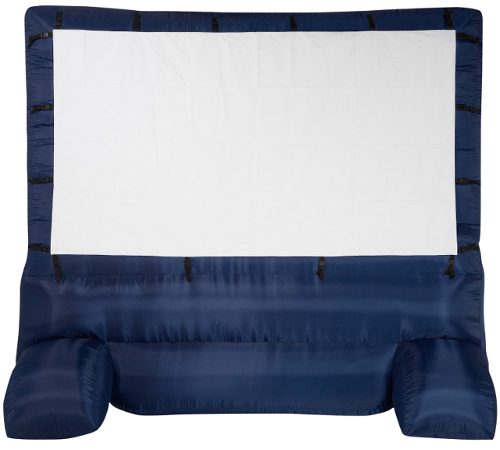 This self-inflatable 12ft Deluxe Outdoor Inflatable Movie Screen will make you the envy of the neighbourhood!
Whether you need some cinematic entertainment to accompany a family barbecue, a big screen for watching sports events with a large group of friends, or if you have always wanted to host a Halloween movie marathon for your neighbourhood, this spectacular screen will deliver. Suitable for watching all manner of films, TV shows and video presentations with up to 200 people, you can remain confident that this exceptional 12ft Deluxe Outdoor Inflatable Movie Screen will facilitate an awe-inspiring viewing experience without the hassle of building your own movie theatre.
Portable and Easy to Store
Each of these 12ft Deluxe Outdoor Inflatable Movie Screens comes delivered in a package that measures 15.5 inches by 16 inches by 21.5 inches. Each of these formidable film screens also comes equipped with a lightweight portable carry bag so that your 12ft Deluxe Outdoor Inflatable Movie Screen can be easily stored when it is not in use. However, once you unpack this fantastic film screen you, and your family and friends, will never want to put it away!
Quick and Easy Set Up
As soon as you plug in the two fans which come supplied with each kit, this magnificent full-size, widescreen outdoor movies screen will begin to inflate itself to its full 12ft height; an impressive feat that can be completed within 5 minutes. All that's left for you to do is affix it onto your lawn using the ties and eight tether stakes provided (four long and four short), attach your projector and a basic set of computer speakers, set up some lawn chairs and then decide which movies you want to watch.
Outdoor Movies, Cartoon Marathons, Superbowl!
The fan blowers which will keep this 12ft Deluxe Outdoor Movies Screen inflated throughout the evening are highly efficient and quiet so that you will have no problems hearing your favourite films, TV shows and sports events. Just make sure you place these fans onto a flat surface to facilitate efficient air flow, and that you have put out enough chairs in order to seat the flock of envious movie-goers that this fantastic film screen will be sure to attract!
If you'd like to learn more about this exceptional 12ft Deluxe Outdoor Inflatable Movie Screen then please feel free to view its full item specification via Amazon online today or to contact our Garden Gadget Zone team with any questions you may have.