How to Start A BBQ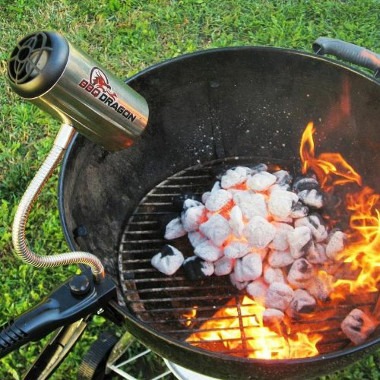 How to Start A BBQ
Wave goodbye to outdated matches and arduous conventional firelighters; with the BBQ Dragon Fire Supercharger you can warm up all manner of fireplaces, ceramic cookers, firepits, campfires, smokers and wood stoves in a matter of minutes! Simply place the BBQ Fire Dragon Supercharger on your preferred cooking tool and set its variable speed motor to your preferred airflow levels. From here the BBQ Dragon Fire Supercharger will direct a concentrated burst of low-velocity, cool air at the fire in order to start up your grill, fire pit, campfire or other cooking source within 10 minutes.
All BBQ Dragon Fire Supercharger units are fitted with an adjustable stainless steel neck and heavy-duty spring-loaded clamp so that you can securely attach these innovative garden gadgets to any cooking source. Moreover, the BBQ Dragon Fire Supercharger has a sleek stainless steel body so you can rest assured that it will remain cool and safe to operate with every use.
Ultimately, by investing in this battery-powered, hands free BBQ Dragon Fire Supercharger unit, you can quickly and safely cook all of your favourite foods with minimal hassle and exertion.