Movie Night Ideas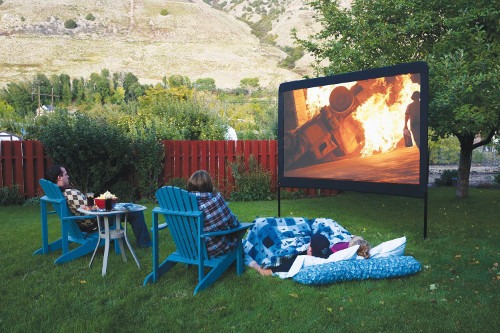 Movie Night Ideas
Squeezing everyone around the TV on movie night need never be a problem again. Solution? Take the movie outdoors with the Camp Chef OS120L Portable Outdoor Movie Screen!
This 120 inch diagonal display screen is made of an oxford nylon reflective material for high-resolution imagery and enriched colors. It weighs just 34lbs which is 10lbs lighter than our regular OS120. The easy clip-on screen design so it can be assembled in minutes. What's more, once you have finished watching your favourite Movie or TV show, the lightweight Camp Chef OS92L Portable Outdoor Movie Screen can be dismantled and placed within its sturdy carry bag which has an internal organizer.
This Portable Outdoor Movie Screen also comes equipped with four frame stakes, four guy lines and a carry bag for rapid assembly and compact storage. As a result, this portable cinema system can be taken along on any camping, hiking or family holiday, is great for business seminars, sporting events, weddings  and can also be installed within your garden for easy viewing during summertime barbecues or evening drinks parties on the terrace. On those balmy summer nights when no-one wants to go back inside, get the popcorn and a blanket and settle down for a movie fest.
We at Garden Gadget Zone think this is one of the best movie night ideas ever!