Bird Watching Box Camera – SpyCamera CCTV
Bird Watching Box Camera – SpyCamera CCTV
Ever wonder what your birds get up to when you're not watching? Well now you can find out! The Wireless Bird Box Camera by SpyCameraCCTV enables you to venture within your garden bird boxes and record both audio and video footage of your favourite birds during the day and throughout the night.
This state of the art garden gadget can be placed within any bird box and utilises a specially coated lens, 700TV lines resolution, a built-in microphone and Grade A colour CMOS sensor technology to provide you with clear images and videos of your favourite birds.
The Wireless Bird Box Camera also features six Infra-Red LEDs which facilitate up to 1.5 metres of night vision. As a result you can collect video and audio footage in complete darkness without disturbing the birds you are recording.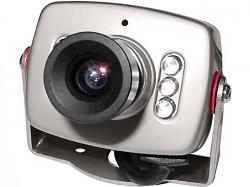 Furthermore, this highly advanced garden gadget has a wide angle 2.8mm lens with an adjustable focus and a long operation range of up to 50m clear line of sight so you can receive highly detailed images from within any sized bird box. The camera has a 5 metre power supply for easy and flexible installation to any bird box but also takes batteries.
The USB Video adapter allows you to record video and audio straignt onto your computer. .Advanced CCTV software allows functions such as Motion Detection and Scheduled recording.
As a result, you and your family can watch footage of your favourite birds without the need for unnecessary wiring and cables. This wealth of technological features make the Wireless Bird Box Camera the ideal garden gadget gift for aviary enthusiasts and can provide you with hours of exclusive footage from within your garden's bird boxes!