Mosaic Lights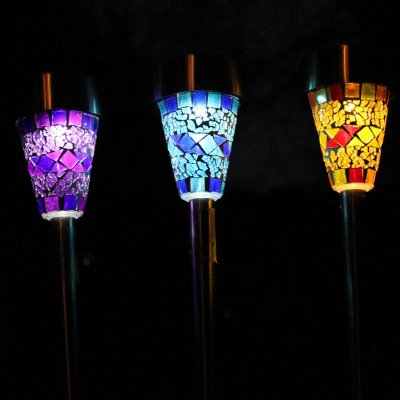 Solar Powered Mosaic Garden Post Lights
Brighten up your garden pathways, plant pots and flowerbeds with a set of 6 Solar Powered Mosaic Border Garden Post Lights. These radiating garden gadgets come equipped with a fully charged AA battery in each light.
All you have to do is take them out of their packaging, turn on the solar panel for each light, and place them in your preferred location. From here, these mosaic marvels will begin to charge up their individual solar panel. By nightfall, they will automatically illuminate and provide up to 6 hours of ambient lighting on a full charge.
Mosaic Colours
Each set contains two blue, two purple and two yellow lanterns, each crafted from brightly coloured glass pieces and stainless steel. Scatter these unique lighting features amongst your garden as you please and then bask in the wonderful shadows and sights that they project on your pathways, flowerbeds and plant displays throughout the evening.