Chelsea Flower Show 2015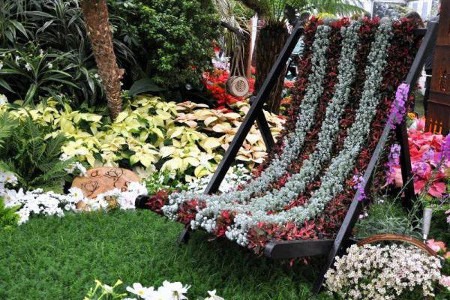 Since 1913 the internationally renowned Royal Horticultural Society (RHS) Chelsea Flower Show, or the Great Spring Show as it is formally known, has attracted gardening enthusiasts to London's Royal Hospital Chelsea grounds.Heralded as the world's most prestigious flower show, this year's event will run from the 19th to the 23rd May and will feature fifteen show gardens as well as a collection of smaller gardens, plant displays and horticultural showcases.
The Royal Horticulture Society Chelsea Flower Show.
Amongst the fifteen show gardens on display at this 2015 event will be an exhibition by Sentebale, a charity that supports impoverished children in the African kingdom of Lesotho. This charity was founded by Prince Harry and Prince Seesio of Lesotho in memory of their mothers and this year will marks their second exhibition at the Chelsea Flower show.
In 2013, Sentebale exhibited a "Forget Me Not" show garden, designed by Jinny Blom, that was inspired by the landscape of the landlocked African country.
This year the charity's show garden will be designed by Matt Keightley; an artist who was involved in the design of the "Hope on the Horizon" garden for the Help for Heroes charity. As matters stand, it is expected that Sentebale's show garden at the 2015 Chelsea Flower Show will be inspired by their charity's flagship child care centre.
As well as this Royal addition, the Al Barari Firm Management show garden is also expected to be a highly popular exhibition for the 2015 event. Designed by Kamelia Bin Zaal and titled the "Beauty of Islam", this garden is intended to serve as a sanctuary within which visitors can relax and explore the relationship between humankind and the Earth.
This garden will feature four walls that will create multiple rooms for visitors to discover. Water will flow throughout these rooms; all of which will be adorned with jasmine, rosemary and papyrus. These floral additions will represent the spread of Islam, Arab culture and the evolution of the Arab empire through trade.>/p>
Another highly anticipated show garden will be designed by Jo Thompson, a prominent figure at the Chelsea Flower Show who received a gold medal for her recreation of a London square at Chelsea last year. Hinted as a 'sylvan retreat', Thompson's is expected to design a show garden for M&G Investments which will include a two storey oak-framed building, a natural dipping pool, woodland features and a collection of British roses and peonies in a variety of pastel colours.
These are but three of the fifteen show gardens that will be exhibited at this year's Chelsea Flower Show and visitors will be able to explore an even broader selection of beautiful garden displays and horticultural showcases throughout the entirety of the event. Tickets for the 2015 RHS Chelsea Flower Show have been on sale since the 1st December 2014 and, whether you are a gardening enthusiast or simply a curious spectator, this prestigious event enables all who attend to discover a myriad of spectacular outdoor displays from a cacophony of talented designers.
(Image Source: http://goo.gl/zcuubK)