Supreme Silicone Heat-resistant BBQ Grill Oven MaxyLife Gloves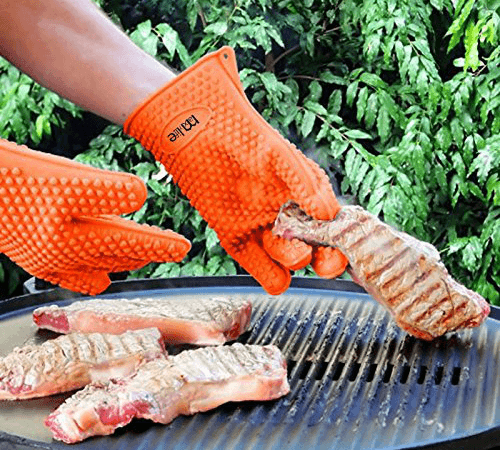 Supreme Silicone Heat-resistant BBQ Grill Oven MaxyLife Gloves
Have you discovered how the right tool for the job always make a task easier? Have you realised that your present BBQ or kitchen gloves are either dirty, wet, smelly or just not sufficiently heat resistant to protect your hands?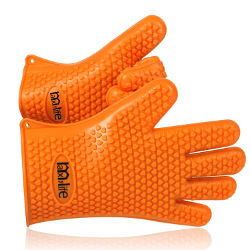 Maxylife gloves are the answer to all these problems in one! Now you can grill, oven bake and barbecue in a variety of cooking scenarios and your hands will remain clean, dry and safe from burns. The MaxyLife Gloves are FDA approved and BPA free. They are made of non-toxic premium food grade siicone suitable for a variety of tasks including cooking, grilling, camping, pickling gardening and cleaning. MaxyLife Gloves are also dishwahser safe. With the waterproof design you can say goodbye to inconveniently wet oven mitts. Grease, food, grime and oil are washed away easily.
How versatile are the MaxyLife BBQ Gloves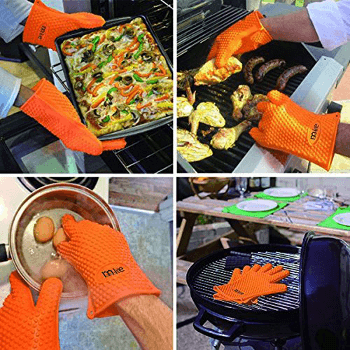 These Maxylife Heat-Resistant BBQ Gloves are versatile to make simple work of a wide variety of tasks including:
Removing hot foods from the oven, pots and the grill
Removing snow and ice such as defrosting kitchen appliances
Tending a fireplace
Working in the garden
Handling cold drinks and deep frozen food directly from the freezer or ice box
Scraping snow and ice from vehicles
Easily opening lids that require friction to turn
Turning over BBQ food by hand, without getting burned
What makes MaxyLife BBQ Gloves the best for BBQs?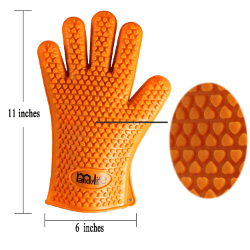 At first glance it is hard not to notice the vibrant orange color of these gloves. Whilst it may not co-ordinate subtly with your kitchen, in a bbq area in the garden this makes them ideal, as they are hard to misplace and can be easily found.
These thick hard textured MaxyLife BBQ gloves are heat resistant to a level that makes them idea for dealing with heat from the BBQ or from hot water. Caution should always be used when handling hot items for prolonged periods since the silicon, like all fabric, will ultimately conduct some heat. The MaxyLife BBQ gloves have a temporary resistance up to 425 Degrees Fahrenheit.
The Flexibility of the fabric makes it easier to carry out tasks that require manual dexterity whilst still protecting your hands from the heat. These gloves are designed with a waterproof five finger grip for flexibility and a manual dexterity that puts your old oven gloves in the shade.
The FDA approved silicon fabric means food can safely be handled directly.