Drone with Camera Quadcopter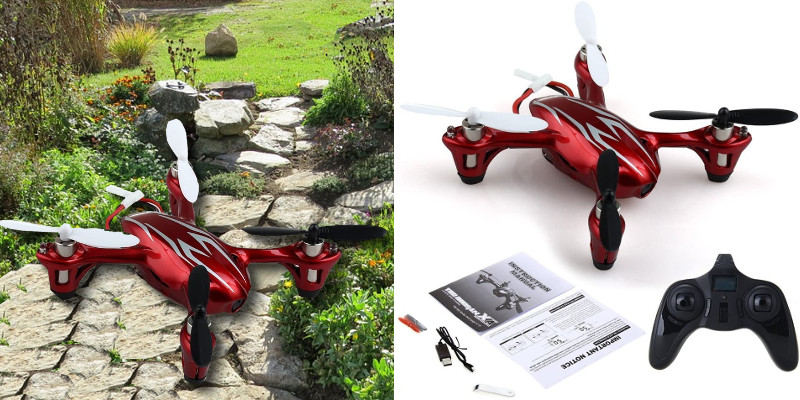 Quadcopter with Camera
6-axis Flight Control System with
Adjustable Gyro Sensitivy
4 Channels
USB Cable for Charging More…
Drone with Camera Quadcopter
Something for the Gardener who has everything!
Now we know what you're thinking. What does a drone with camera quadcopter have to do with "garden gadgets". Well, we at GardenGadgetZone like to bring you the best. Along with being enormous fun, this darling little drone also has a practical side too. For example, you could consider this gadget as a security spy camera in the air to watch out for intruders. Furthermore, when you have finished toiling and tilling, you can survey the fruits of your labours from a comfy chair. When all is said and done, you can easily regard this marvellous gadget as good old garden entertainment. However you choose to use it, we think this drone with camera quadcopter is bound to provide practical uses and a whol lot of fun into the bargain.
Aeriel View of Your Garden
Picture the scene. You have finished weeding, toiiling, planting and all those other labour-intensive jobs. Now what better way to to survey the fruits of your labours than through the spy camera of this mini drone. Sit in a comfy chair and simply fly it round the garden! Get some aerial shots of the lawn, visit the vegetable patch, get straight and level on the garden path or dive bomb feline intruders in the petunias. When you are weary from working, sit back and have some fun flying with this delightful little drone.
Records
This marvellous little gadget even takes video footage! Add in an SD memory card and you can record all sorts of garden activity. Now you can plot the progress of your marrows and record those birds who are nesting high up in the tree. From the comfort of a garden chair you can keep an eye on the fish pond and catalogue the comings and goings of visiting wildlife.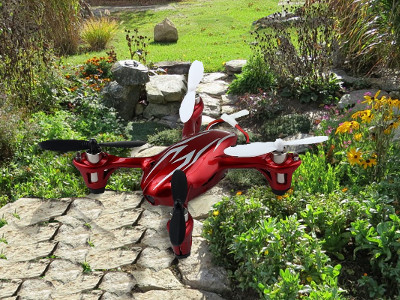 Click Image to View Demo
Indoor & Outdoors
Survey your garden from the skies with this Hubsan X4 H107C HD 2MP Camera 2.4G 4CH 6 Axis Gyro RC Quadcopter. This four channel quadcopter can be manoeuvred both indoors and outdoors via a 2.4GHz radio controller with an in-built LCD screen. From this screen you can carry out a variety of flight options amongst which include recording footage via the drone's HD 2MP Camera.
Easy to Assemble
All in all this garden gadget is easy to assemble and can be the source of hours of outdoor entertainment. Within no time you can be soaring and swerving through the skies with ease; carrying out expert flying manoeuvres whilst surveying the fruits of your gardening labours or better still, someone else's!
Technical Specification
Four channels: front/back, right/left, up/down, turn
Battery: 3.7V, 380mAh
Motors (x4): 0820 core motors
Frequency: 2.4GHz
HD 2MP Camera
Propeller protection and USB cable
Charges directly from any USB port
Great Gift for any Gardener
If you struggle to come up with new ideas for the gardener in the family, why not throw in a drone with camera quadcopter? It may not be the typical gardening gadget they were expecting but it is so much fun that it is surely going to be their favourite!
Or maybe you should just treat yourself?