Ladder Safety Brace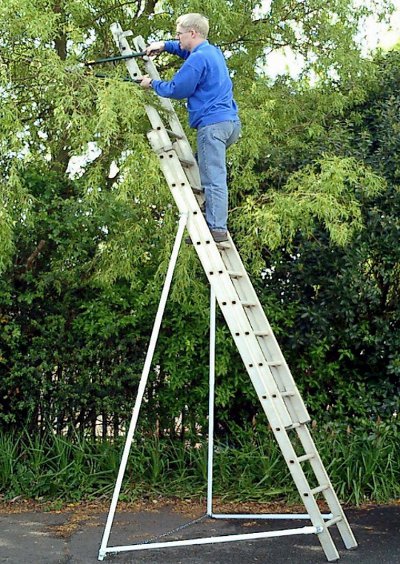 Ladder Safety Brace
How to Prune Tall Trees Safely
So how are you going to prune that awkward tree that has just quite frankly got above itself? You don't want the expense of 'getting a little man in' but you also don't fancy your spot of gardening on a Sunday afternoon degenerating into a Laurel and Hardy film with you as the stunt double!
If this scenario is too familiar,  then it could be worth investing in a Good Ideas Ladder Brace. This highly useful garden gadget can be attached to any standard British wood or aluminium ladder up to 26ft and provides you with a sturdy and secure platform from which you can carry out those rticky gardening tasks that just can't be tackled at ground height.
Ladder Safety
Irrespective of whether you are painting or hedge trimming, if you need to climb to get the job done than ladder safety should be your first priority. A staggering (pardon the pun) number of accidents take place because the ladder used is not secured or braced at the bottom or top.
This lightweight 9lb platform can be used on all manner of uneven surfaces and can then be folded flat for easy storage when not in use. The Good Ideas Ladder Brace also comes with a 2 Year Warranty and has been certified as meeting CE safety standards. Consequently, you can have peace of mind that no matter how high you climb the Good Ideas Ladder Brace should remain steadfast in its place!