Electric Lawnrake – Bosch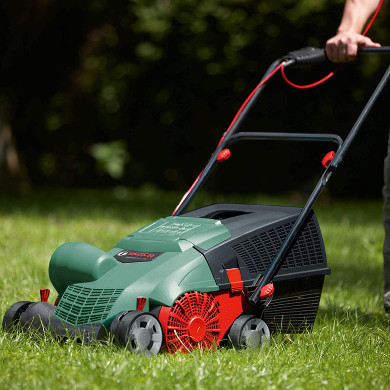 Fast Verticutting
Collects moss and thatch
50 Litre Collection Box
Innovative Drum
Stainless Steel Blades
Bosch AVR 1100 Verticutter Electric Lawnrake
Is your garden plagued by weeds, moss, thatch or excessive leaves? This is fairly typical on anything but a new lawn. However, your lawn could be a weed free, luscious green carpet in no time.
With the Bosch AVR 1100 Verticutter Electric Lawnrake you can rapidly clear your lawn of these unsightly intruders. With a full 32cm cutting width and four raking heights that range from +5mm to -10mm, the Bosch AVR 1100 Verticutter Lawnraker can be used throughout the year to maintain your garden's immaculate appearance.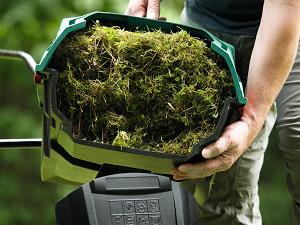 This garden gadget is powered by a 1100W high-torque Powerdrive motor and contains Bosch's Jet Collect fourteen blade raking cylinder system which has been specifically designed to lift deep rooted thatch and troublesome lawn weeds as well as surface debris. This innovative system generates an air flow which efficiently increases the rate of debris collection.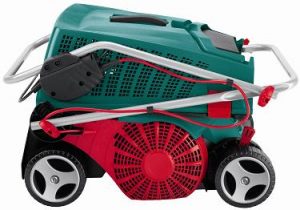 Removing lawn weeds can seem like an ever-losing battle. As quick as you remove them they are back. This is because of their density, how deeply rooted they are and their long-term resistence to chemical weedkillers. The best and most effective solution is a lawnraker. You will be amazed at just how much debris this little lawnraker is able to extract.
The Bosch AVR 1100 Verticutter Lawnraker enables you to extensively clear your lawn of weeds, thatch, moss and leaves with substantially less effort than you would have expended using other models. So you have more time to relax and enjoy the fruits of your gardening labours!