Drone Quadcopter with Camera
Drone Quadcopter with Camera
Something for the Gardener who has everything!
Now we know what you're thinking. What is a Foxnovo Hubsan X4 H107C 2.4GHz 4-Channel Mini Radio Control RC Quadcopter with Camera  doing under "garden gadgets". Well, we at bestgardengadgets like to bring you the best. Whether you want to consider this gadget as a security spy camera in the air to watch out for intruders or just plain old garden entertainment, we think this quadcopter is so much fun it would make one of the best present ideas ever for your resident gardener.
Picture the scene, they've finished weeding, toiiling, planting and all those other labour-intensive jobs, now what better way to relax than for them to survey the fruits of their labours through the spy camera of this mini quadcopter as they fly it round the garden!
It even takes video footage! Comfortably nestled in their favourite garden chair, drink on the table, quadcopter in the air, we guarantee it will not be the garden gadget they were expecting but it is so much fun it is going to be the favourite!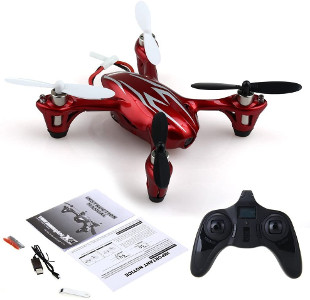 Or maybe you should just treat yourself?
Survey your garden from the skies with a state of the art Foxnovo Hubsan Quadcopter. This four channel quadcopter can be manoeuvred both indoors and outdoors via a 2.4GHz radio controller with an in-built LCD screen. From this screen you can carry out a variety of flight options amongst which include recording footage via the quadcopter's 0.3 MP camera video recording module.
All in all this garden gadget is easy to assemble and can be the source of hours of outdoor entertainment. Within no time you can be soaring and swerving through the skies with ease; carrying out expert flying manoeuvres whilst surveying the fruits of your gardening labours or better still, someone else's!