Manual Patio Awning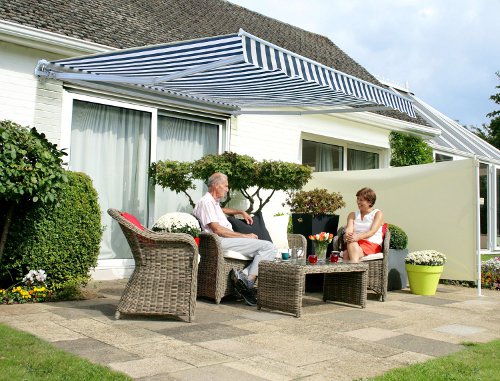 Manual Patio Awning
If you are looking for an easy to operate manual patio awning then look no further than the Primrose Mayfair Manual Patio Awning. This blue and white manual patio awning can be opened to your ideal projection length and slope. Moreover, the nature of this garden gadget means that it can be rapidly assembled, disassembled and cleaned with minimal hassle.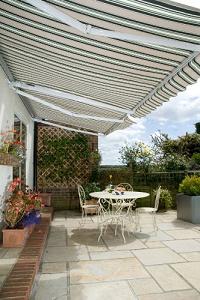 Each Primrose Mayfair Manual Patio Awning is 2.5 metres wide and provides a maximum wall projection of 2 metres. The awning covers are manufactured from 300gsml polyester and the awning arms are crafted from forged aluminium so that their arm angle can be adjusted by up to 35 degrees.
The awning's twin steel cables are passed through the articulated joint to provide heavy tension in the arms and all of the wall brackets and expansion bolts feature an electro-statically powder coated finish.
These structural considerations mean that each and every Primrose Mayfair Manual Patio Awning is extremely durable and comprehensively waterproof, rot-proof, PU and UV stabilised for long lasting dependability.
Whatever the weather brings, this awning has got you covered!