Aquaponic Greenhouse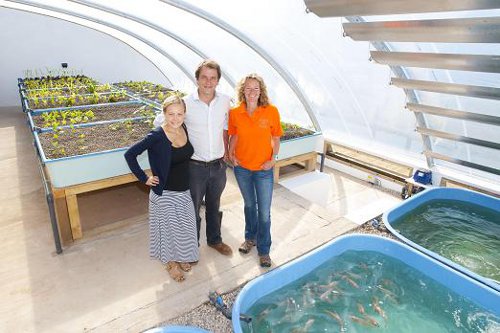 Aquaponics Pioneers.
Many are hailing aquaponics, the process of farming fish and crops at the same time within an integrated system, as the future of sustainable agriculture. This revolutionary approach to both recreational and commercial farming took another step closer to becoming a reality in July 2014 when the UK's first aquaponic solar greenhouse was constructed on an ex-council farm in Mounmouthshire in Wales.
The farm is run by Springwatch TV presenter Kate Humble and her husband Ludo Graham as part of their Humble By Nature initiative. They purchased the 117 acre farm in 2010 after hearing that it was about to be sold by the council and broken up into lots. For at least four generations this farm was tenanted by the council to young farming families who had no land of their own. Consequently, Kate and Ludo wished to carry on this tradition of supporting local farmers and now use the land to showcase rural skills, cookery and educational courses.
Amongst these educational courses include a selection of introductory, intermediate and intensive classes on the agricultural and ecological benefits of aquaponics. These one, two and five day courses educate attendees about the key principles of aquaponics, how to design, build and maintain your own aquaponics system as well as the economics of aquaponics business planning and the logistics regarding the marketing of produce.
Humble by Nature's aquaponic solar greenhouse is also supported by the non-profit social enterprise organisation Aquaponics UK. On the Humble by Nature website, Kate and Ludo convey how this collaborative effort with Aquaponics UK has enabled them to;
"create sustainable food growing techniques using aquaculture, farming fish, and hydroponics creating a hugely productive and efficient farming system with few inputs and many, high value outputs. In a nutshell we grow fish and recycle the nutrient rich water into soilless vegetable production cleaning the water in the process so it can be constantly reused…We've built a passive solar greenhouse in which to house this productive, edible ecosystem which is also…combined with a variety of other complementary farming techniques such as producing fish and poultry food from insects, growing mushrooms from used coffee grounds and growing poultry, fed from by-products of the system".
Ultimately, Humble by Nature and Aquaponics UK hope that this aquaponics solar greenhouse in Mounmouthshire will inspire others to develop their own aquaponics systems across the UK. Their greenhouse demonstrates how aquaponics can be a self-sustaining agricultural solution for both recreational and commercial farmers because it enables them to raise fish and grow crops within an integrated system without wasting any resources. Could this be the future for modern day farmers? Only time will tell!
For more information visit our Aquaponics Section