True Fairy Story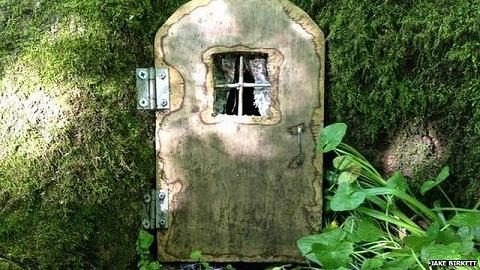 True Fairy Story
If you go down to the woods today you'll never believe your eyes! Although it was originally opened as an extension of Wayford Manor Gardens, Wayford Woods in Crewkerne in Somerset has become
famous due to its uniquely elfin attractions; fairy doors!
Indeed, as well as a stream, meadow and ornamental lake, this 29 acre woodland area also boasts over 200 'fairy doors' that have been attached to the bases of trees. These doors exist so that local children can leave messages for the fairies that are fabled to live in the woods. In a recent BBC interview Wayford Woods trustee Steven Acreman explained how these fairy doors began to emerge within the woods at the beginning of the millennium. He commented that the first door;"fitted perfectly, it had a little turned handle and inside was a bed. We didn't know who had done it but we left it there".
One Fairy too Many.
However, the sudden increase in the fairy population throughout Wayford Woods has led Acreman and other trustees to call for restrictions to be introduced on the amount of doors that can be erected.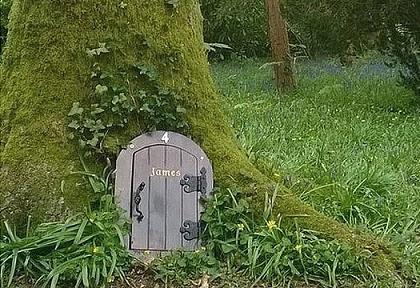 Although the first few fairy doors were discrete and merely contained small notes and tokens, there has been a significant increase in the amount of garish fairy decorations such as plywood doors with tinsel and glittery adornments. The Wayford Wood trustees worry that these artificial additions could have a negative impact on the nature reserve's flora and fauna and believe that they are adversely impacting the conservation of this cherished woodland area. As Acreman conveyed in his recent BBC interview;
"We've got little doors everywhere. We're not anti-fairies but it's in danger of getting out of control…We've had as many as 10 doors put up on a single tree; they surrounded the tree… …It's a very complex situation and nobody's admitting that they're evicting the fairies…It's just that fairy control is required otherwise we'd be covered in fairy doors…We put a lot of time into the conservation of the woods. We're trying to keep people to the paths but the fairy doors are making it a free-for-all".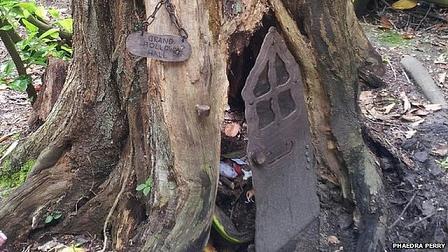 Even the Fairyland Trust, a national organisation dedicated to the conservation of the environment and the establishment of family friendly nature projects, have weighed in on this fundamentally fairy issue. They explained how;
"The managers of the Woods are getting worried about the number of doors and playgrounds and are introducing planning controls…We at the Fairyland Trust don't want to discourage making Fairy Houses, indeed we do it at the Fairy Fair and other events but agree that a balance needs to be struck to make the developments sustainable, and not damaging to the woods".
Consequently, the Fairyland Trust have devised several helpful Fairy Planning Guidelines that local families can adopt to continue enjoying the magical mystery of the woodland without damaging the environment. Amongst these planning guidelines include;
Refraining from using metal and plastic to construct fairy doors,
Using natural materials such as woods, twigs and hessian to craft and decorate the fairy doors,
To attach the doors to the trees with twigs and string rather than using cement, nails or screws,
To tread carefully around the fairy doors and trees in order to preserve the woodland's indigenous plants and flowers.
Ultimately, it is hoped that by adhering to these ecologically responsible fairy planning guidelines local families can continue to enjoy the elfin intrigue of the woodlands all the while conserving the environment.
Garden Gadget Zone Verdict
Doors or no doors, we think the Fairy Folk  in Wayford Woods are there to stay! However, if you would like to make room for a fairy or two in your back garden, why not build your own Fairy Dell?
We have lots of gadgets to make a fairy welcome in your neck of the woods. So why not check out our Fairy Garden Section,. We also can recommend some great ideas for Creating Your Own Fairy Garden.

(Image Sources: 
http://goo.gl/1v4GjB
http://goo.gl/hFcu9P 
http://goo.gl/hc3oXS)