Garden Gazebo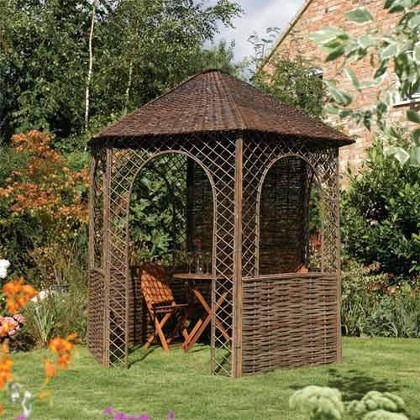 Rowlinson Willow Garden Gazebo
This six-sided Rowlinson Willow Garden Gazebo will provide a welcome garden retreat in any outdoor area. It features open horseshoe shaped lattice sides and a roof; all of which have been constructed from solid willow. Moreover, you can rest assured that all of the materials that have been used to lovingly craft your Rowlinson Willow Gazebo are ecologically conscious and have been sourced from approved sustainable timber suppliers.
This is due to the fact that Rowlinson have been certified by the Forest Stewardship Council (FSC).  Subsequently, by investing in a Rowlinson Willow Gazebo you can decorate your garden with beautifully rustic furnishings all the while knowing that you are preserving the environment.
This easy to assemble gazebo comes equipped with a full set of instructions, care sheet and U-shaped hooks so that the entire unit can be securely fixed to the ground in order to withstand any weather conditions.
Furthermore, given that the Rowlinson Willow Garden Gazebo measures 2.15 metres long, 2.48 metres wide and 2.65 metres high, it can be placed within any sized garden to complement your existing plants, flowers, water features and other garden gadgets to make an attractive garden retreat.