House Fountain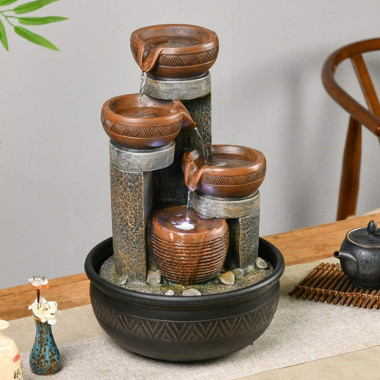 Desktop Waterfall Fountain
LED Lighting
Great For Home or Office
Measures: 15.7″ x 10.4″ x 10.4″ More…
House Fountain
Easy to Move
This indoor fountain with LED lighting is a great little gadget when you want to create the ambience of a water feature indoors. You can easily position this delightful water feature anywhere in your home. Furthermore, repositioning you LED infused fountain within your home could not be easier. Simply unplug, move the fountain to the deisired location and it is up and running immediately.
Versatile
Place it in a hall way to create an instant calming ambience as you enter your home. In a conservatory, you can enjoy the calming trickle of water and subtle illumination on those bad weather days. Bedroom, living room, office, den or dining room, this delightful indoor fountain will allow you to enjoy all the benefits of a calming water feature without stepping outside.
Description
This charming indoor fountain measures 15.7 inches high, 10.4 inches wide and 10.4 inches deep. It is constructed of polyresin, is lightweidht, durable and ideal to place anywhere in your home or office.
How Does It Work?
Each of these house fountains has a built in automatic submersible pump that circulates water continuosouly. This is a self-contained unilt that requires no plumbing. Simply, add water to the fountain, plug it in to a standard electrical outlet and your home fountain is ready.
Built in Light
You will be delighted to hear that your house fountain also contains built in LED illumination. As daylight fades you will still have the opportunity to enjoy the tranquility and serenity your water feature provides. A combination of gently cascading water and subtle lighting creates a relaxing, tranquil ambience you can enjoy all evening. No matter where in your home you place your house fountain, it will create a delightful atmosphere and an attractive display.