La Hacienda Chimenea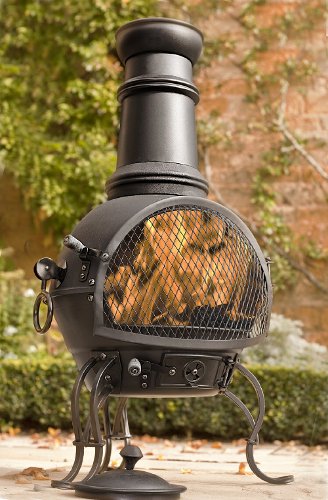 La Hacienda Murcia Chiminea / Chimenea
Chimineas (Chimeneas) originated hundreds of years ago in Mexico and were used to provide families with a source of heating as well as a tool with which to cook and bake. Over the years these ceramic, cast iron or aluminium freestanding fireplaces have been used by outdoor enthusiasts as patio heaters and BBQ grills
They are synonymous for their front-loading design, spherical body and vertical smoke vent or chimney.
Out of all of the available designs, La Hacienda's Murcia Medium Steel Chiminea  (Chimenea) with BBQ Grill is one of the most popular models on the market. This chiminea measures 89cm high, 40cm wide and is constructed solely from steel.
It has been painted with black heat resistant paint for a classic look that with not scrape or chip. This flat pack chiminea is compact, easy to assemble and features a grill that can be effortlessly removed depending on whether you wish to use the chiminea as a BBQ grill or outdoor heater.
This wealth of features make the Murcia Medium Steel Chiminea a great addition for both small and large patios.