Zap It Bug Zapper Bug Killer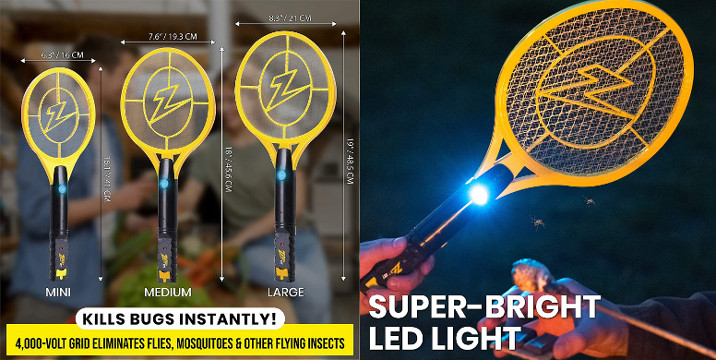 Mosquito, Fly & Bug Zapper
3 Sizes Available
4,000 volts
USB Charging
Bright LED Light
Day or Night Use
Safe to Touch
Effective Electronic Bug Killer
This great little Zap It Bug Zapper is a powerful pest control tool to have at your disposal. Featuring a 4,000 volt grid, this is going to put that old fly swatter you have been using in the shade. Those flies litterally will not know what hit them!
Easy to Use, Day or Night
Take the strain out of swatting mosquitos, flies and bugs with a single swing. This handy little gadget will work instantly to eliminate pests and is reliable time after time. There is a conveniently bright LED light on the handle so you can easily eliminate those pesky pests at night time or during the day. Whether you are on a camping trip, enjoying a barbecue in your garden or relaxing in your home, the Zap It Bug Zapper will always be at hand to dispatch those unwelcome little guests.
Rechargeable
For quick and easy charging, this handy little gadget incorporates USB charging and includes a charging cable. The built-in Lithium battery offers up to 10,000 zaps on a single charge.
Safety First
With an activation button and a glowing indicator light, you are in control of your zapper at all times. There is even a triple layer safety mesh, which provides extra protection when the racket has been activated.
3 Sizes Available
Lightweight and ergonomically designed, this Zap It Bug Zapper is comfortable to use and gives you a high degree of control at your finger tips. These Zap It Bug Rackets are available in three sizes. The larger the surface area of your racket, the more likely you are to catch that little intruder on the first swipe. Once you have tackled that pesky little pest, simply give your Zap It Bug Zapper a quick shake and you are ready for your next intruder.
Keep bugs out with a Zap It Bug Killer Racket!