Drinks Cooler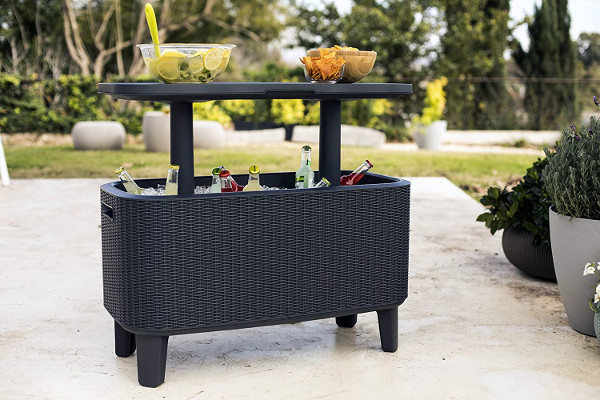 Drink Cooler, Bar Table
Coffee Table & Hot Tub Table
Espresso Brown Resin
Dimension: 32.8″ L x 15.9″ W x 20.4″ H
Capacity: 17 Gallons
Weight: 28.13 llbs
Pop up Top Table
Holds upto 130 cans / 65 bottles
Easy Clean Drainage Plug More…
Drinks Cooler
Serve your party drinks in style!
Can you hear it? can you smell it? The first signs that winter is on the run and soon you will be sitting outside on the patio basking in the glory of spring rapidly followed by those balmy evenings of summer! Ahh…and what comes next? Party time!
Maybe you are the sort of person who loves a good barbecue: the sizzle of steaks hitting the flames and the plink as the ice cubes races your legendary fruit punch to the bottom of the glass. Perhaps your ideal summer evening is relaxing with some friends on the terrace, savouring a tranquil summer night, Brahms wafting across the lawn and a chilled martini in your hand.
Well, whatever your idea of the perfect soiree, it's always better if the weather is warm, the drinks are chilled and you don;t have to stray too far from the comfort of your chair to restock those glasses. Right?
Whether you prefer your martini shaken or stirred, you can enjoy a variety of chilled drinks on your terrace this summer with a drinks cooler. Ideal for summer BBQs and evening drinks parties on your patio, this practical garden gadget enables you to serve chilled drinks for hours.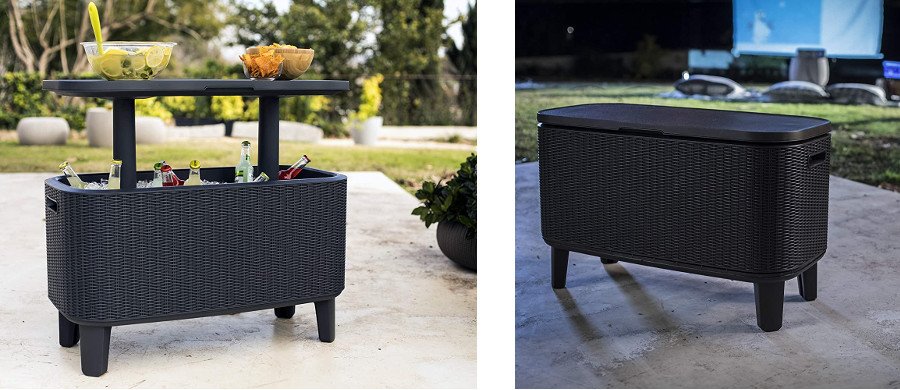 Breeze Bar Drinks Cooler
This Breeze Bar Drinks Cooler is going to make the ideal companion for your patio entertaining. Whether you are enjoying a hot tub session, relaxing by the pool or hosting a sensation soiree bbq, you will soon find this little gadget indispensible. The top tier provides a serving table for placing cocktails, tapas or maybe a bowl of your nfamous home-made punch! It also features a large lower compartment which provides an excellent giant ice bucket for chilling wine, beer and soft drinks alike.
Construction
This highly versatile drinks cooler is made from a durable weather-resistant espresso brown polypropylene resin. Easily assembled, your patio party drinks cooler is fitted with a drain plug which is great for easy maintenance.
Great for a Party
If you love throwing an alfresco party, by the pool, on the patio, on the sunken lawn or in the summer house, you will love this Breeze Bar drinks cooler. It makes the ideal snack or drink station for large gatherings and provides a great way to keep drinks cool and ready to pour. Designed with elegance and functionality in mind, it is stylish and practical. No more balancing glasses and bottles. The table holds the glass, the ice bucket hills the drinks. All you do is have to pour the drinks and look cool and relaxed.
How Big is It?
This drinks cooler when closed measures 32.8 inches long by 15.9 inches wide and stands at 20.4 inches high. The pop up lid rises upwards a good 10 inches above the rim so you can use it as an additional cocktail table while accessing your ice cool drinks within. Raise that handy top level and it will reveal a generously-sized lower level 17 gallon ice bucket. You will delighted to hear that this cooler compartment can hold up to 130 12oz cans of drink or 65 bottles with ice.
Easy Storage & Maintenance
Once the party is over, your drinks cooler is easily wiped down and put away. The weather-proof resin from which it is made makes it ideal for the patio. A drain plug beneath means you can empty it out when you wish and you will find this drinks cooler easy to clean and maintain.
Smooth Closing Mechanism
When you no longer wish to use the pop-up cocktail table, you will find the special spring mechanism in this drinks cooler means the upper level table will elegantly close gradually, without slammming.
Ideal Patio Drinks Cooler
All in all, this drinks cooler is an ideal gadget to have in your garden. Whether you are playing by the pool, partying on the patio or languishing on the lawn, you will have easy access to your favorite chilled drinks. That should certainly help you keep your cool as those hot summer days lead into balmy summer evenings.