How To Create Your Own Fairy Garden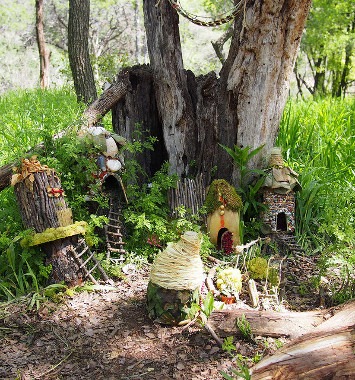 If you are a fan of all things fantastical then why not create your very own fairy garden? Designing and constructing your very own fairy garden can be a great source of fun for friends and family of all ages; and presents a wonderful opportunity for you to exercise your creative flair. So if you want to welcome some elfin inhabitants to your back garden then listed below are some helpful tips on how to build and furnish your dream fairy garden:
Location, location, location!
Firstly you need to decide where you want to build your fairy garden. Fairies are carefree individuals who are happy to either relax in shaded, covered areas or bask in the sun. It is recommended that you build your fairy garden in a large container or pot. By doing so, you can move your elfin inhabitants indoors during the icy and frosty winter months as well as enabling them to relax in a dry and well lit area throughout the spring and summertime.
Always be prepared
Before you begin adorning your fairy garden with flowers and properties it is important that you plan where everything will go. If you draw your fairy garden on a piece of paper and map out where you will place your houses, water features, pathways and flowers then you can create the garden of your dreams without ensuing any pixie planning permission complications!
Planting your garden
Firstly you will need to create the base of your fairy garden out of any large container of your choosing; such as a wooden box or a wide based plant pot. Once you have chosen your garden base you should fill it with potting soil to create a level grow-bed.
You can now begin to bring your fairy garden to life with some vibrant plants, flowers and water features. Initially you should plant ground cover plants such as moss and herbs. These plants will cover any patches of dirt left between your fairies' favourite flowers as well as adding a fragrant aroma to your garden.
Fairies are extremely fond of brightly coloured flowers so you should plant a variety of vibrant plants and flowers. Popular fairy flower types include; forget-me-nots, bluebells, daffodils and violas amongst others. If you plant a broad spectrum of flowers in different colours and sizes then you can create a dense and thriving garden which you and your fairies can explore.
Fairy Garden Ideas
As well as flowers you can also decorate your fairy garden with a selection of meandering pathways or even a few water features. You can use gravel, stones or wood chips to create pathways within you fairy garden; simply map out your pathway with a few sticks and twigs and then fill in the spaces with your chosen material.
If you wish to erect a series of watering features or wishing wells you can do so with a variety of small containers or crockery. For instance, you could take a miniature plant pot, saucer or tea-cup, place it amongst your potting soil and then fill it with either water, blue gems, aquarium covered gravel or even some blue, glittery covered material to create a quaint fishing spot or pond for your fairies!
You can also attach miniature wind chimes to the branches within your fairy garden. These instruments will create a calming and soothing sound that will resonate throughout your fairy garden.
Building your fairy houses
Now that you have created a luscious fairy garden it's time to build some houses so that local fairies can come and stay! You can build a fairy house out of any materials that you wish; from wood, stones, cardboard or twigs to converting an old birdhouse or dollhouse into a purpose built fairy property.
If you are building your fairy house from scratch then you should gather four sticks or pieces of wood and firmly drive them into the soil so that they will not fall over. From here you can lean cardboard, stones or another material around these sides to create sturdy walls for your house. Place some leaves, material, twigs or wood on top of these panels to create a roof and you will have created your very own fairy house!
Adding a few finishing touches
At this point you can add a door made of twigs or cover the interior base of your house with moss or wood chips to create a welcoming environment for your fairies. You can even decorate the interior of the house using thimbles and cotton reels as furniture or repurposing old doll furniture. These simple decorative touches will help your fairies make themselves at home in their new abode.
When building a fairy house or fairy furniture you should always make sure that the natural materials you have gathered are dry before you begin to use them. If you do not wait for them to dry then you will not be able to glue or fasten them together efficiently and your structure will not be as sturdy as your fairies would like.
From here you can continue to populate your fairy garden with a myriad of houses, water features and decorations as you please. Why not establish a theme that will resonate throughout your garden? You could adorn your fairy houses with seashells, cover your garden base with sand and create small buckets and spades out of old toys or twigs to create a coastal themed garden?
Alternatively you could add seasonal decorations to your fairy garden throughout the year; such as glittery tinsel and miniature Christmas trees in December, small pumpkins and candies at Halloween or even some toy bunnies, chicks and miniature egg baskets to create your very own elfin Easter Egg Hunt in the spring? With a fairy garden the possibilities are endless!
Creating your very own Fairy Garden is just the start. If you want more inspiration, or would like some pretty Fairy ornaments to add to your Fairy Garden, check out our Fairy Garden Section!