Backyard Aquaponics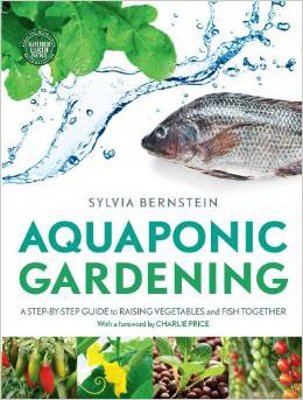 Backyard Aquaponics
A Step-by-Step Guide by Sylvia Bernstein
Aquaponics is revolutionising the way vegetables are being farmed by combining the best aspects of agriculture and hydroponics.  Long since embraced by farmers as a reliable and effective way to produce organic vegetables at reduced cost, the "grow your own" gardeners have now realised that they can captitalise on the benefits of this revolutionary approach to vegetable gardening by installing their own backyard Aquaponics System.
When we say backyard Aquaponics, that encompasses backyard, garden, polytunnel, greenhouse or indeed any quiet area of the house where you can fit the apparatus. The scale of the Aquaponic System you can install is limited only by your needs and imagination!
For those who want to experiment with Aquaponics but do not want the financial outlay of buying a complete working system, help is at hand in the form of books, forums and a number of experienced Aquaponic converts who are willing to share their expertise.
A good place to start is always research, learning from those who have gone before, know the pitfalls and the shortcuts. Sylvia Bernstein is one such expert who has put together a "Step-by-Step Guide to Raising Vegetables and Fish Together".
An addictive read for those who want to discover how to successfully maintain their own backyard Aquaponic system, this is the definitive do-it-yourself home manual. The introduction has been penned by Charlie Price, head of Aquaponics UK, and the book has been endorsed by the Progressive Gardening Trade Association and Aquaponics Enterprises.
As the president and founder of The Aquaponic Source, Sylvia Bernstein is an internationally recognised expert on aquaponic gardening who speaks and writes extensively on the subject of Aquaponics.
Backyard Aquaponics
Would you like to grow your own organic vegetables all year round in a low maintenance self-contained environment? Are you ready to be part of this revolutionary approach to vegetable gardening? Would you like a world respected expert guiding you through the process?
Like many others you will find this book quickly becomes indispensible as a guide to creating your own backyard aquaponics system and enjoying organic, fresh food all year round.