Living Wall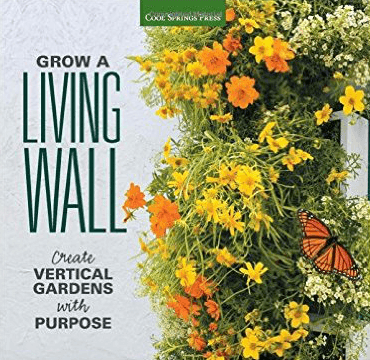 Ideal for Small Gardens
Author: Shawna Coronado
Paperback: 160 pages
Color Illustrations
Easy to Follow More…
How to Grow a Living Wall by Shawna Coronado
Looking for an innovative  and eye-catching addition to accompany your already thriving flower garden? Or have you always wanted to grown your own fruit and vegetables but lack the space for a grow house or allotment? If so, then look no further. Shawna Coronado's book; Grow A Living Wall: Create Vertical Gardens With Purpose, is a comprehensive guide that will inspire you to establish your own living wall today.
What is a Living Wall?
If you have never heard of the term 'living wall' before then, simply put, it is a vertical structure that contains live plants growing in containers.
What plants should I grow on a Living Wall?
Once you have built and placed your initial structure you can begin to adorn it with vegetations. The choice of what you grow is entirely up to you. In a vertical garden you can easily grown flowers, fruit, vegetables or even medicinal and decorative plants. As a result a living wall can serve as an affordable, easy to assemble sustainable garden gadget structure through which you can  indulge in your favourite gardening activities.
Shawna Coronado
So if you would like to build your own living wall but are unsure how to do so then Shawna Coronado's book can help. For many years Shawna has expressed her simple green living ideals as an author, newspaper columnist and keynote speaker. Shawna Coronado was even named #1 Garden Blogger on Twitter by software organisation Cision in 2014.
Step by Step Guidance
As such, Shawna is well equipped to offer step-by-step advice on how to build your very own living wall. By following her guidance and learning from her book's useful tips sections, background stories, exceptional photography and 20 featured gardens, you can begin to enjoy the benefits of having your very own  environmentally friendly and sustainable living wall today.