Aquaponics Vegetable Garden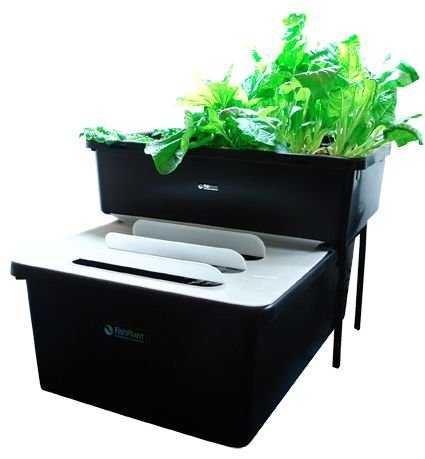 Aquaponics Vegetable Garden
Innovative Vegetable Garden with Aquaponics
Want a vegetable garden that will be the talk of your neighbourhood? Recently discovered the world of aquaponics but don't know where to start? Don't want to go the DIY route and would like a basic introductory kit to kick-start your new growing system?
Then look no further than the Fish Plant Family Unit Complete System! This basic kit contains everything you will need to start your own aquaponics growing space.
Within the Fish Plant Family Unit Complete System you will receive: a 300 litre fish tank, grow bed and stand, a 45W pump and pipe kit, auto-syphon, clay pebbles, tank cover, de-chlorinator, filter bacteria, nitrite test and a comprehensive instructions and operations guide which will explain how to assemble and maintain your aquaponics system.
The Fish Plant Family Unit System is large enough so that you can grow a variety of fresh plants and vegetables as well as the ability to stock up to 3.5kg of fish. The fish tank measures 46cm by 85cm by 130cm, the grow-bed measures 107cm by 73cm, the bed has a working height of 79cm and the footprint measures 107cm by 130cm.
As a result of this system's compact size, it is easy to assemble and maintain. Subsequently, the Fish Plant Family Unit Complete System serves as the ideal aquaponics starter kit and can expand and evolve into a larger system as you become more confident in your advancing aquaponics abilities.