Waterer for Flowers & Vegetables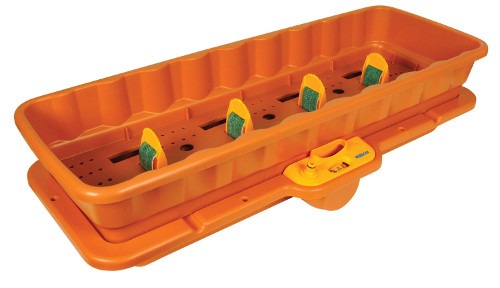 Ideal waterer for growbag
15 Litre Reservoir
4 capillary water spikes
Water goes to roots
Base has 3 bamboo cane holders
Waterer Flowers & Vegetables
Don't you some times find that watering plants is such a chore? Help is at hand. The Hozelock 2810  Waterer provides gardeners with a rapid and effortless method of watering plants.
This garden gadget features a 15 litre reservoir that will hydrate plants for up to 14 days without the need for complicated timers or intricate pipes. Simply fill the planter with compost, fill the base with water and plant up.
Water from the 15 litre reservoir is delivered directly to your plant's roots via four capillary water spikes. The combination of these innovative capillary water spikes with an integral water level indicator that can be filled via a watering can or hose pipe connector means that this garden gadget will only water your plant roots when needed.
Subsequently, this efficient garden gadget enables you to protect your plants from drought as well as minimising your garden-related water wastage.
The Hozelock 2811 Flower/ Vegetable Waterer also contains three vertical bamboo cane holders which act as a solid support frame upon which your plants can grow and flourish. Watering plants has never been easier. Ready, steady, go!