Water Butts
Master Garden Rain Barrel
Rain Barrel
Takes in Rainwater
Brass Spigot
27″ Wide
35″ High More…
Master Garden Rain Barrel
Having a water butt is a great way to collect rain water that you can redistrbute around your garden. In the process, you are conserving natural resources and taking advantage of the natural properties in fresh rainwater. By positioning the butt within proximity to your drainpipe, the barrel easily collects rainwater for use around the garden. A brass spigot low down, allows you to easily attach a hose pipe or fill a bucket or watering can.
How big is it?
These water butts can hold in excess of 50 gallons and are made from recycled water tight wine barrels. Measuring 27 inches wide and 35 inches high, they make an attractive feature in your garden. Each barrel will vary slightly in color, creating your own, unique barrel water butt.
Versatile
Your attractive water butt can also be used to show off plants to great effect by closing the top of the barrel. It makes a great stand for your favorite pot plants and helps to create a great display of color.
Protect the contents
In the rain collection area, a screened opening reduces the chances of creepy crawlies getting into your water butt. It also filters any small debris that might be flowing into the barrel along with the water.
Overflow
You will find an overflow hose located at the top/back of the barrel. This makes sure that any overflow will drain away. If you so choose, you can attach a hose long enough to drain to any nearby flowerbeds or onto your lawn.
150L Woodgrain Effect Polybutt Water Butt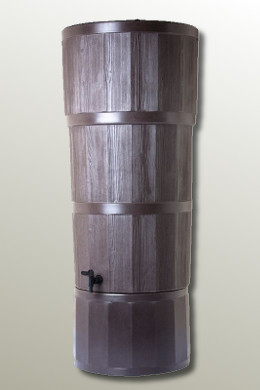 Woodgrain Effect
Polybutt Water Butt
Colour: Oak Brown
Pre-drilled holes
Capacity: 150Litres More…
150L Woodgrain Effect Polybutt Water Butt
This magnificent 150L Woodgrain Effect Polybutt is a strong and durable construction. You will be pleased to hear that it comes with pre-drilled holes for a tap and two more for the downpipe connector. It also arrives with a tap, lid, rain diverter and matching stand.
What is it made from?
Your Woodgrain Effect Polybutt is made from UV stabilised Linear Low-density polyethylene (LLDPE). Made from durable materials, you can sit back and enjoy the benefits of this fine water butt for many years to come.
How big is it?
This is a generously proportioned waterbutt with a capacity to hold 150 litres. It stands at 127cm in height, which includes the stand. It has a diameter of 52cm.
Whisky Barrel Water Butt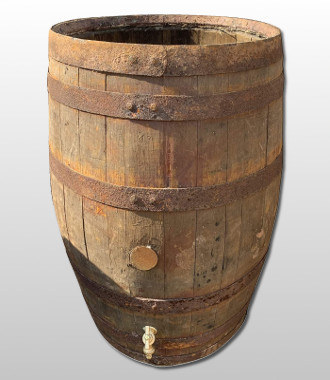 Rustic Oak
Traditional Whisky Barrel
Removeabe Top
Capacity: 45 gallons (200 litres)
Height: 88cm
Diamater (middle): 54cm
Tap included More…
Whiskey Barrel Water Butt
For a really rustic look, why not furnish your garden with a genuine ex-distillery oak barrel? These barrels were at one time used for the maturing of spirits such as whisky. A traditional oak barrel provides a practical and attractive way to collect rainwater that can be redistributed around your garden.
How big is it?
Your whisky water butt measures a generous 88 cm high and has a diameter of 54cm at its widest point. This water butt can has a capacity of 45 gallons (200 litres) and has a removable top section which also measures 54cm in diameter.