Sitting Fairy Sculpture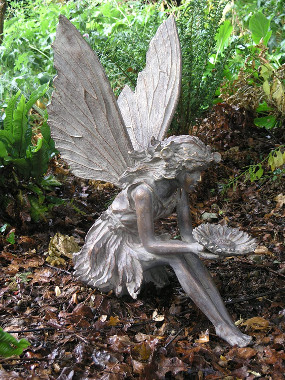 Made of high-quality resin
UK: Bronze Finish
USA: Antique Resin
Heigth: 54cm (21.2 inches)
Fairy Magic
A great way to bring some enchantment into your garden is with this delightfully, magical, sitting fairy statue. She stands at 21 inches tall (54cm) and is made from resin. Fairies in the UK have an antique bronze finish while those flying fairy folk in USA arrive in an antique resin finish.
Weatherproof
Your sitting fairy figure has been handcrafted from durable materials designed to cope with being outdoors,come rain or shine. She will look great sitting on your patio, next to a pond, taking centre-stage as a main feature.
Beautiful Fairy Sculpture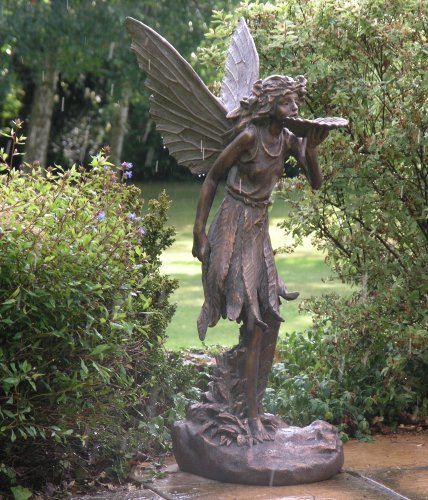 High Density Resin
Aged Bronze Finish
Height: 93cm (36.6 inches)
Width: 31cm ( 12.2 inches)
Depth 54cm ( 21.2 inches)
Weight: 11.6 kg (25.5 llbs) More…
Beautiful Fairy Sculpture
If you are looking for a decadent centrepiece for your residential or commercial garden then this Standing Fairy Antique Bronze Sculpture can add an air of elegance to any outdoor garden. This angelic lookin Fairy will add a touch of enchantment to a quiet area of your garden or make a stunning focal point placed 'centre-stage'.
Hand-crafted
Hand-crafted by skilled tradesmen, this high density resin sculpture has been adorned with an aged bronze finish and will withstand all weather conditions. This Beautiful Fairy Sculpture measures 93cm high, 31cm wide and 54cm deep and serves as an eye-catching ornament for gardens of all shapes and sizes.
More Fairy Ideas
If you like this fairy sculpture, perhaps you should consider creating your own fairy garden? With a few simple fairy features you can create a magical spot in your garden that is sure to attract the wee fairy folk. Head on over to our Fairy Garden Section to find lots of ways to infuse some magic into your outdoor space.