Fairies on a Seesaw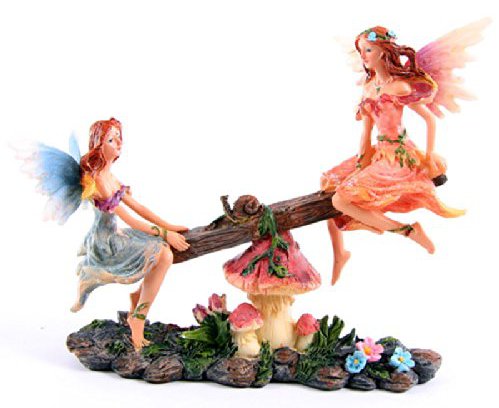 Fairies on a Seesaw
Fairy's Seesaw for your Fairy Garden
Fairy stories are always telling us how hardworking the wee folk are. But fairies also like to have fun and are happiest when playing in the sunshine in their Fairy Garden away from the pring eyes of those pesky humans.
We have found two fairies who just love this Fairy Seesaw festooned with flowers and balancing on a toadstool. So Fairy! This Flower Fairies Seesaw Garden Ornament has been meticulously crafted from resin and features two prettily dressed fairies playing on a glistening toadstool seesaw.
Measuring 14.5cm high, 16.5cm deep and 7.5cm deep, this magical garden ornament can be displayed both indoors and outdoors and would be a whimsical addition to any patio, terrace, flowerbed, or best of all, your own magical Fairy Garden!