Miracle Gro Expand and Grow Compost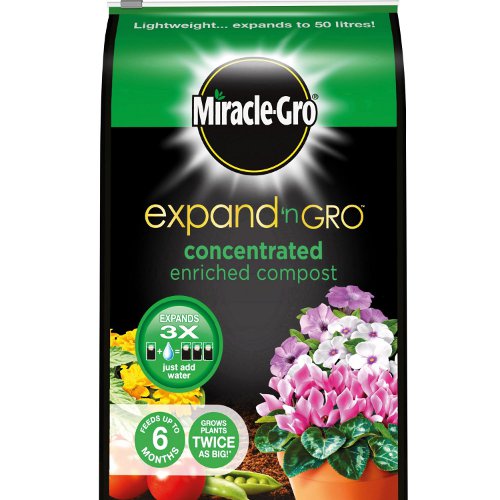 Miracle Gro Expand and Grow Compost
Supersize your garden with Miracle-Gro Compost!
There are numerous beneifts to using compost in your garden. Compost enriches the soil, restoring and maintaining nutrients that are vital for healthy plants.
The water level is balanced, soil aeriated, and a healthy pH balance can be maintained. As a result, the plants thrive and are given protection from the common diseases found in the garden.
This revolutionary bag of gardening compost can expand to make over 40 litres of compost when watered in merely a few minutes. The compact size is ideal for people who may have storage issues, or have difficulty transporting large bags of compost to where they are needed. It is a versatile asset for any gardener, ideal for flower beds, borders, pots, containers and hanging baskets.
Miracle-Gro Expand 'n Gro compost is 100% peat free, made from recycled natural fibres and retains up to 50% more water than regular potting compost; thereby enabling your garden plants, flowerbeds and potted plants to thrive and grow to their full potential.
The re-sealable bag means that you can use as much or as little as you like and the compost is enriched with Miracle-Gro plant food so that it will feed your plants for up to 6 months. The only thing you have to worry about is where to put your plants when they've outgrown their pots!