Large Tiny Door for Fairies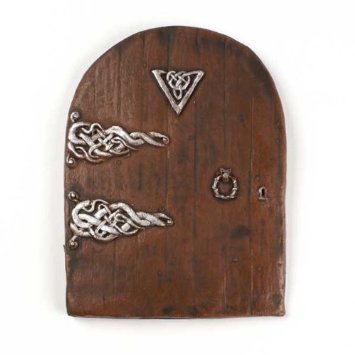 Large Tiny Door for Fairies
Tiny Door for Us but Large Door for Fairies!
Fairies come in all shapes and sizes so it is only natural that your fantastical furnishings should do the same. This may be a tiny door but by Fairy standards it is larger than average measuring 14.5cm tall by 11cm wide. Even the tallest of fairies and their pixie, imp and troll neighbours can comfortably fit through the threshold when visiting.
Its expanded dimensions mean that your elfin inhabitants can come and go as they please and move their favourite furniture into their new home without any trouble at all. Crafted from resin, this large fairy door is durable and can withstand all wet, windy, frosty and snowy weather conditions; thereby ensuring that your fairy inhabitants can relax comfortably and securely within their woodland homes throughout the year.
If you don't have a Fairy Garden you can always attach this door to a skirting board inside the house. Great talking point for visitors, and children love waiting to see if a Fairy appears!