Keep Cats Away with Sound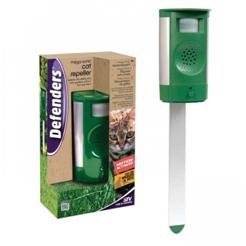 How to keep cats away with just sound
If you find that your flowerbeds and lawns are being destroyed by feline foragers,  then it is worthwhile investing in a sonic cat repeller device.
Out of all of the models on the market today, the weather resistant Defenders Mega-Sonic Cat Repeller is the UK's Number 1 Best Seller; boasting a 50% larger coverage area than any other models and a 2 Year Warranty.
By using Passive Infra Red (PIR) sensor technology, the Defenders Mega-Sonic Cat Repeller can detect any cats within your garden and repel them without causing harm.
Its feline detection system operates by monitoring a fan shaped area of a 98 degrees arc up to a distance of 12 metres. If any animals are detected to be moving around within this area, the device will emit a burst of continuously variable ultrasound that sweeps a frequency range between 18,000Hz and 24,000HZ.
This frequency emitting device is the secret to how to keep cats away from your garden without causing them harm.
As a result of this motion detector technology, you can receive peace of mind that your lawn, flowerbeds, bird feeders and ponds will be free from feline intruders at all times.