Bird Hotel Garden Nest Station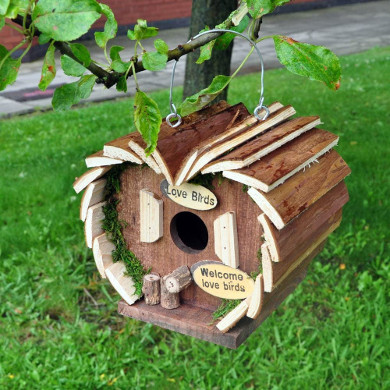 Bird Hotel Garden Nest Station
This compact and bijou bird hotel is ideal for our feathered friends who don't fly south for the winter but still like to get away.
Make your garden the number one destination for vacationing birds with a Bird Hotel Garden Nest Station! This intricately crafted wooden lodge, that comes fitted with a durable steel hanging handle, arrives already assembled so that it can be quickly and effortlessly placed in the ideal spot in your garden.
What's more, the Bird Hotel Garden Nest Station measures 16.5cm deep, 16.5 cm high and 14cm long. As a result, it is compact enough to be placed in both modest and extensive gardens but its interior is spacious enough to provide shelter for a wealth of wandering wildlife.
Consequently, whether you have already established your own aviary or if even if you have just begun to install bird feeders in your garden, the Bird Hotel Garden Nest Station is sure to attract a menagerie of different birds to your back yard throughout the year!