Chinese Dragon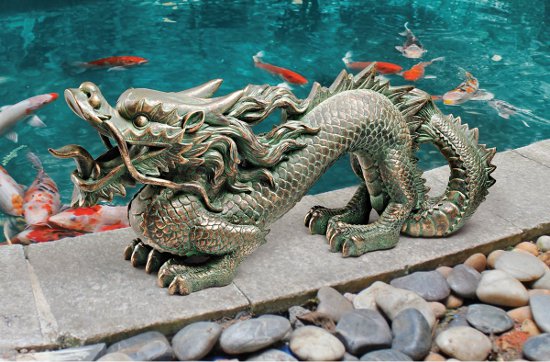 Chinese Dragon to guard your Garden
Chinese dragons are legendary creatures from ancient folklore who typically symbolize power, particularly having control over the elements: water, rainfall, hurricane and floods as well as being a symbol of strength and good luck for those that are considered worthy. Bearing all that in mind, who wouldn't want a dragon statue in their garden?
This Asian Dragon statue has been inspired by the grand Chinese dragons of the Far East. Cast in quality designer resin with a rich verdigris bronze finish, this statue will add an air of prosperity to any flowerbed, pond or Asian garden.
Measuring at 21 inches wide, 4.5 inches deep and 8 inches high, this 8lb Asian Dragon of the Great Wall statue is an ideal centrepiece for any garden and is sure to bring you good fortune for years to come!