Celtic Fairy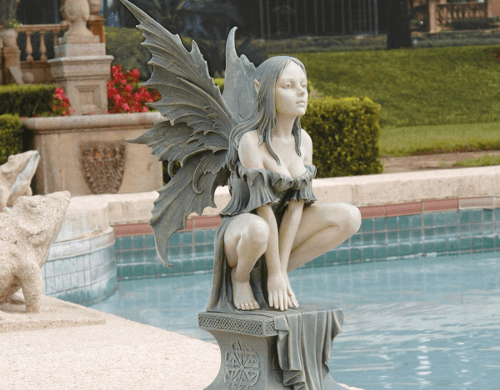 Resin Stone Celtic Fairy
Exclusive Toscano Design
Measures: 9.5″ x 7″ x 19″
Weight: 5lbs
Outdoor Statue More…
Celtic Fairy
If you are a fan of all things magical and ethereal then why not add a fantastical fairy garden sculpture to your current garden landscape, conservatory or patio? If you are lucky enough to have a pool or a pond, why not place her nearby to create a magical reflection in the water?
Versatile Focal Point
Perched on her plinth, this magical Celtic Fairy is waiting for just the right wind to take flight. This stunning statue would create a wonderful focal point on your patio, by the pool or indeed anywhere in your garden. This mesmerising Celtic Fairy's Perilous Perch Garden Sculpture is perfectly poised to sit amongst your flowerbeds, within plant pots or to frolic with your other garden figures. What's more, given that this fairy statue has been cast in quality designer resin, she will not lose her sleek and stylish two-tone stone finish come rain or shine!
Description
Weighing in at 5lbs, this Celtic Fairy Statue stands at 19 inches high and measures 7 inches by 9.5 inches. This high quality garden statue is hand-cast using real crushed stone that is bonded with durable designer resin. You will be glad to hear that it is UV resistant so your Celtic Fairy can happily soak up the sun wherever she is placed.
Fairy Garden
You certainly won't want to hide this fairy at the bottom of your garden. Makes a delightful feature that humans and wild creatures will adore alike. If you like the idea of a celtic fairy statue in your garden, perhaps you should check out our fairy garden section. You can quickly and easily create your own magical corner of the garden where fairy folk are invited to gather.