Wall Water Feature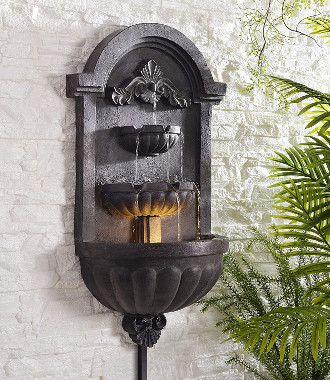 Plum Bronze Finish
Made from Resin
Measures: 9″ x 19.5 X 35″
LED lighting
Instructions
Classic Wall Water Feature
This beautifully designed traditional villa resin fountain has a dark plum bronze finish. Place it on your patio, the side of your shed, garage or garden wall or even inside your house for an elegant wall water feature.
Tranquil Sounds
Water is known for its therapeutic and relaxing effect. Aswell as being a functional piece of porch or garden wall art, you can sit and savor the gentle sound of the water cascading through the three levels. The gentle babble creates a soothing and relaxing atmosphere in your garden, conservatory or wherever it is placed.
How big is this fountain?
The measurements of the wall water feature are 35 inches in height, 20 inches wide.
Minimal Splashing
You will be pleased to find that the pump features an industry-leading motor and the components have been tuned for optimal performance. A cleverly designed water control valve will help minimise splashing so you can enjoy your water feature to its fullest.
Instruction Guide
Setting up your wall water feature could not be easier with the easy-to-read step by step guide that accompanies your fountain.
Ambient Lighting
When the sun goes down, a warm ambient lighting glows from within the fountain basin. You will be pleased to find that this can be operated independtly from the pump. This warm lighting will further enhance the appearance of your wall water feature, creating a wonderfully cosy and relaxing atmosphere. Your classic wall water feature is sure to give many hours of relaxing enjoyment. Whether you place your elegant fountain indoors or in the garden, it will grace the surrounding area with a charm and tranquility.
Sit back and enjoy
This beautiful wall water feature can be fitted to any garden wall with minimal hassle and tools. So you are then free to marvel at the spectacle of water circulating and pouring from the water feature's top level down through the split middle section and into the reservoir below. The flow of water creates a delightful bubbling sound which is very soothing. This pretty wall mounted fountain would be a stylish addition to any garden, patio area, conservatory or hallway.