Buddha Statue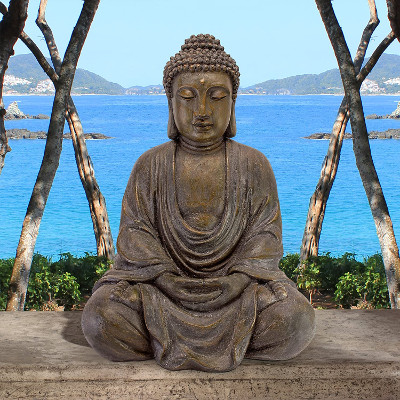 Dark Stone Colored
Polyresin
Measures: 15″ L x 20″ W x 26″ H
3 Sizes Available
Indoor & Outdoor More…
Buddha Statue
If you are searching for a Buddha Statue that encapsulates the peace and tranquility for which you search, then look no further. This Polyresin Buddha Statue by Toscano has a beauty and presence that sets it apart. This is the smallest of these Buddha Statues measuring 15 by 20 inches at the base and 26 inches tall. The Toscano Buddha statue is also available in Large (19 x 27 x 40 inches) and Giant (32 x 35 x 48 inches)
Indoor and Outdoors
Highly detailed in a dark stone colored finish, Your Buddha Statue will look impressive whether you decide to place it within your house or in the garden. It can be moved easily to suit changes in your mood or decor requirements.
House Buddha
Positioned in a hallway, this imposing Buddha Statue will provide a highly desirable feature to welcome visitors to your home. Friends and family cannot fail to be impressed by the transquil, peaceful mood this statue invokes. This is also a great way to centre your own inner thoughts when you arrive home and wish to close the door to the challenges of the world and find your inner peace. Conversely, whenever you leave your house, this statue will be the last reminder of an inner calm you wish to take with you when you travel. That rings true whether it is a quick trip to the shops, a yoga class or an excursion away from home.
Dojo Buddha
Whether you are into martial arts, practice yoga at home or follow an exercise class on line, this Buddha Statue is a great way to define that area within your home where you exercise. Placed where you can see Buddha as you exercise, it will provide inspiration for your exertion and a reminder to calmly breath and centre your focus as you work.
Garden Buddha
Your Toscano Buddha Statue is durable enough to weather the elements to provide peace and tranquility in your outdoor room of the house, that is, your garden. Placed on a patio or outdoor decking area, this Buddha Statue will immediately change the tone and mood of that area. This statue will help you create a tranquil atmosphere wherever it is placed and will bring a calming centre to your garden.
Garden of Peace
If you are lucky enough to have a large garden, why not create a whole 'zen' area? Such a peaceful looking statue would look stunning alongside a water feature. Place it at the top of a cascading water feature to provide a grand way to centre your statue and exude a calmness over your whole garden.
Peace and Illumination
Your Buddha Statue will also provide a calmness and tranquility to your evenings if you surround it will lights. Whether indoors or outdoors, feature your Buddha Statue with light for a sensational exhibition of tranquility and illumination!