Fairy Houses

Magical Fairy Houses To Enchant Your Garden
These Four delightful Magical Fairy Houses would bring a touch of Magic to your Fairy Garden.  Beautifully detailed, they look like just the sort of place a Fairy would love to live. Place these in your Fairy Garden and the wee folk will come running!
This set of four Magical Fairy Houses is brought to you from Gifted Living. Measuring 6.75 inches high, 5.5 inches wide and 5.75 inches deep, these polystone garden ornaments contain all of the fixtures and fittings that a family of fairies would need to thrive.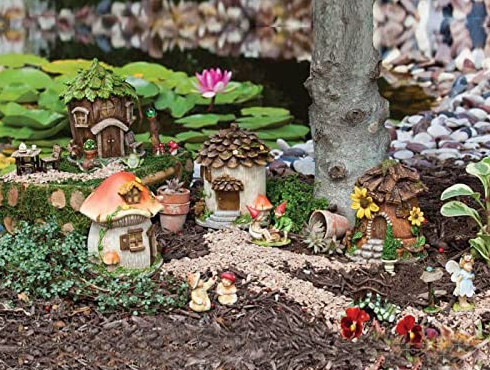 Place these miniature houses at the foot of a tree, amongst your flowerbeds, in between your plant pots or along your patio and garden pathways to create a warm and welcoming habitat for all of your neighbourhood's magical inhabitants.
What is Included?
This set Fairy Garden set comprises of 4 unique, highly detailed fairy houses. Each measures 5.5″ W x 5.75″ D x 6.75″ H. Whimsical and highly detailed, these wonderful little houses are a great way to start your Fairy Garden. If you are not a newcomer to a Fairy Garden, these darling little houses are going to add a new dimension of imagination and fascination to your existing Fairy Garden.
Unique and Imaginative
Use your imagination to create a world of fantasy in any corner of your garden or outdoor space. Even the smallest gardens, patios and outdoor spaces can be come a haven of magical mystery with a few carefully chosen fairy pieces, a few plants and some lighting. Create a fairy dell by placing these 4 fairy houses around a tree as in the picture above. Alternatively you can place them in a corner of your front garden to enthrall passers by of all ages. Get creative. Make subtle changes every few days by moving a few pieces around to create the illusion that it is the fairy folk who are up to their home improvements. Who knows, maybe the fairies will join in!
More about Fairy Houses
If you have yet to add a Fairy Garden to your outdoor area, you are in for a real treat. A fairy garden can create a wonderful, fantasy aspect to your garden that children and grown ups alike can enjoy.
You can start small
A few simple items can immediately transform an area of your garden to create a fairy dell that the wee folk would just love. The area you choose can either be on grass, gravel or hard standing. You can start your fairy garden with one piece or many. Check out our Fairy Garden Section for some great ideas. The beauty of a fairy garden is that it is so versatile. As you add more pieces you can expand the area to allow more fairies to come and make their home. The pieces can be moved into different scenarios as you wish, in order to bring a variance and an imaginative flair to your fairy garden.
Build your Fairy Garden gradually
There is a wealth of fairy items you can add to your fairy garden and you can also fashion some of your own. If you install several fairy houses, then you can create a pathway between the houses with any number of small items such as stones or lolly pop sticks. Why not add a fairy swing? A few flower fairies, some toadstools, a fairy door on a tree, the possibles are endless. Let your imagination run wild and have some fun! For more inspiration check out our Fairy Garden Ideas.