Colour Changing Garden Light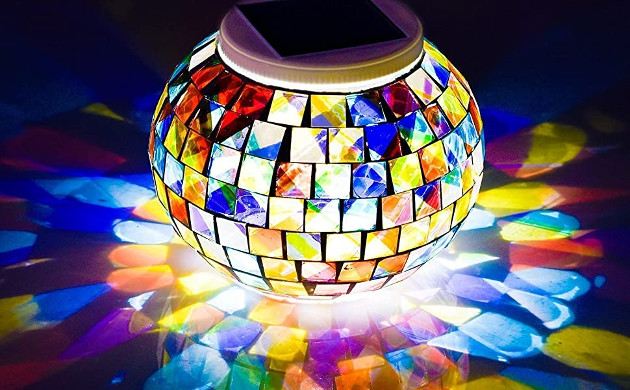 Art Deco Style
Mosaic Glass
Solar Powered
Measures: 5.49″ x 5.49″ x 4.25″
2 Modes: White & Color Changing
Built in Rechargeable Ni-MH Battery
Runtime: 8hrs on full charge
Color Changing Garden Light
This handy little solar powered color changing garden light will make a great addition to your patio or garden. Place it on a table or suitable surface during your bbq or al fresco dining as an attractive centrepiece. As well as looking great, it casts a useful, practical light and create a relaxing ambience. This eye-catching color changing garden light is practical and attractive. It gives plenty of light for your evening soiree, can easily be moved to where it is needed most and will easily recharge on a sunny day.
Operating Modes
There are two modes in which your color changing garden light operates. Set to white light, the light will remain on constantly and not change. Set to color change mode, you will observe the color change automatically. Select the OFF mode until you are ready to activate your light.
Measurements
Each of these handy little gadgets measures a neat 5.49 inches wide by 5.49 inches deep and 4.25 inches high.

How long does it last?
Your color changing garden light will illuminate for approximately 8 hrs once it has reached full charge. This takes approximately 10 hours when placed in direct sunlight. Hence, during the summer months, your color changing garden lights will pretty much take care of themselves. Place them in a spot where the sun's rays can be absorbed by the solar panel to maximum benefit. Once charged, you will have a darling of a brightly colored light as an attractive centrepiece on your table or wherever it is placed, for the next 8 hours.
Indoors and Outdoors.
This solar powered color changing garden light will look spectacular in your garden either day or night. When the sun goes down, the light cast from the brightly colored mosaic glass is mesmerising and attractive to the eye. These lights are versatile enough to place anywhere in your garden but look particularly attractive when place on your alfresco dining table or patio side table. They are also versatile enough to use in any number of situations. In a bedroom, conservatory, dining room or bathroom, these lights will look attractive, provide practical, gentle light and are sure to become indispensible.