Greenhouse Temperature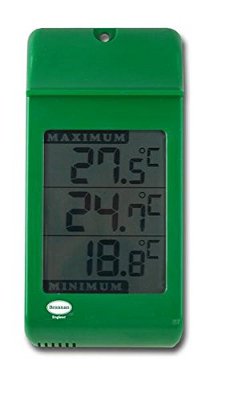 Regulate Greenhouse Temperature
Wouldn't it really help if you knew the maximum and minimum temperatures that your greenhouse or indoor growing space were achieving when you're not there? Well with this little gadget you can do just that!
Keep your greenhouse plants at their ideal growing temperature with the help of a digital Max/Min Thermometer. This state of the art device enables you to view the actual temperature of your greenhouse or grow room whilst simultaneously viewing the maximum and minimum temperatures for this particular growing space.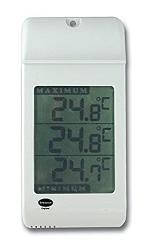 This precise garden gadget measures temperature over the range of -10°C to 40°C with a 0.1°C resolution. As a result, you can instantly calculate the optimum growing conditions for the plants in your greenhouse, grow room or alternative growing space and moderate the temperature accordingly.
This compact garden gadget measures 30 x 50 x 180 mm, features a large custom LCD display and is fitted with a hanging slot for easy viewing. Now the big question, white or green?