Pond Cleaner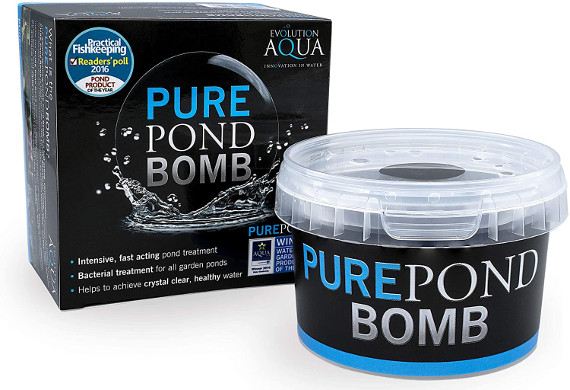 For Crystal Clear Healthy Pond Water
Fast Acting
Cleans up Organic Waste
Breaks down Ammonia & Nitrite
Ideal for Koi ponds, ornamental ponds
Great for Water Features More…
Pond Cleaner
For Pond Water that's crystal clear
Suitable for Fish Ponds
Give your fish the gift of fresh pond water with an Evolution Pure Pond Bomb! From koi and ornamental ponds to water features, the Evolution Pure Pond Bomb will eradicate all pond dirt and grime leaving only clean and clear water behind.
Thorough Cleaning
Even if your pond does not have a conventional filtration system, the Evolution Pure Pond Bomb pond cleaner will release a highly concentrated combination of bacteria and enzymes into your pond water which will break down ammonia and nitrites as soon as the bomb hits the water.
Although this Pure Pond Bomb is only effective against organic waste rather than algae related issues, it still serves as a definitive pond cleaner for aquatic enthusiasts. Your fish will thank you!
Fast Acting
One of the many benefits of this pond cleaner is that it is fast acting. Simply drop the PIRE Pond Bomb
into your pond filter or directly into the water and let this thoroughly efficient pond cleaner do the rest.
What does the pack contain?
Each of these packs contains 1 ball. That means it is sufficient to clean up ponds of up to 20,000 litres (5284 gallons).
How do I use my Pure Pond Bomb?
For best results, simply drop the award winning pure pond bomb into your pond filter or directly into the water.
This Pure Pond Bomb canalso be used when starting up a new filter. This is because the high concentration of bacteria will help to remove the harmful ammonia and nititre. As a result, this allows the filter media to mature. Simply add the pure pond bomb into the biological stage of your filter.