Kingfisher Wooden Bee & Insect Hotel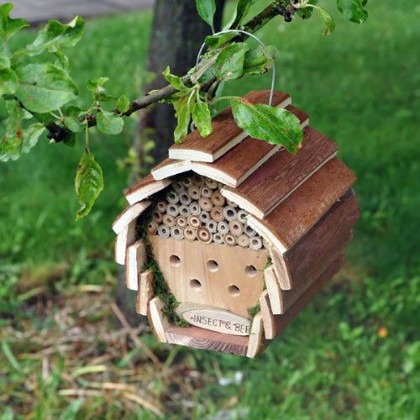 Kingfisher Wooden Bee & Insect Hotel
Revitalise your traditional beekeeping practices with the addition of a Kingfisher Wooden Bee & Insect Hotel! This innovative garden gadget measures 15cm by 14cm by 16cm and will provide your local honey bees, bumble bees and all sorts of insects with an extensive base in which to nest.
Moreover, a Kingfisher Wooden Bee & Insect Hotel will invite more bugs and bees to your garden which will in turn increase pollination amongst your crops. As a result, these wooden constructions make ideal tools for increasing the yields of all of your home grown flowers, plants, fruits and vegetables.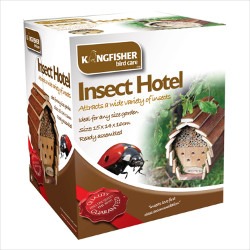 The Kingfisher Wooden Bee & Insect Hotel arrives already assembled and is fitted with a steel hanging handle so it can be effortlessly attached to any trees, structures or feeding stations.
Consequently, regardless of whether you have kept bees or insects before, this durable, weather resilient abode would make an ideal addition to any thriving garden or as a thoughtful gift for fellow nature lovers.