Bees and Insect Hotel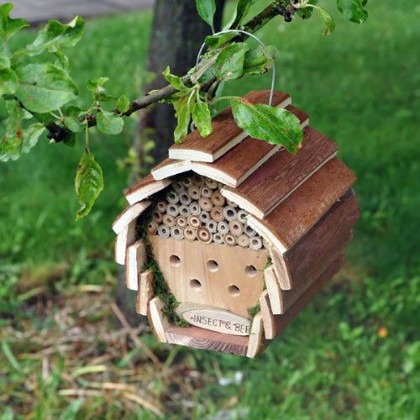 Wooden Insect Hotel
Bamboo Bee Pollinator House
Bees, Butterflies, Ladybirds
30 Hollow Bamboo Tubes
Decorative Artifical Moss
Measures: 7.1″ x 6.1″ x 5.3″ More…
Bees and Insect Hotel
Revitalise your garden and give nature a helping hand with this great little insect hotel. Along with providing shelter and a habitat for those little creatures, you can add a charming feature to your garden that is practical, eye-catching and quite entertaining.
Description
Constructed from premium natural wood, this insect hotel contains 30 hollow bamboo tubes and a pre-drilled wooden block. Measuring 7.1″ by 6.1″ and 5.3″, it is sure to attract all manner of six legged visitors to your garden. You will find this hotel has a charming border of 15 pieces of natural wood with bark and artificial moss for a rustic finish.
Shelter for Insects
This delightful insect hotel will attract all sorts of creatures to your garden including bees, ladybirds and butterflies. It provides them with a safe, convenient place to take a rest or set up home. They may pause to shelter from the rain and like it so much, they decide to stay longer.

Charming Decoration
This insect hotel will add an attractive feature to your garden wherever you place it. It comes ready assembled and has a sturdy metal hoop so it can be hung on a branch, on a fence or wall.
Great Gift Idea
What do you get for the gardener who has everything? An insect hotel of course! One or more of these delightful little gadgets will provide entertainment, decoration and a useful ecological boost to anybody's garden. Insects are an integral part of any garden and are always welcome visitors. Why not make them feel right and home and have a reason to stay with their very own insect hotel?
Entertaining
Beautifully crafted, you can sit and observe all manner of flying insects as they book in and check out of your charming insect hotel. Whether it is bees, butterfies or delicate ladybirds, watching these busy little creatures go about their business can be quite fascinating. Add a charming feature and hours of entertainment to your garden today with a wooden insect hotel and watch the visitors rush to pay a visit. No appointments necessary!