Deluxe Indoor & Outdoor Wireless Speakers with remote control
You put a CD on, wander out into the garden to see how the tomatoes are doing and then realise you can't hear the music anymore. Sound familiar? Well now you can combine your love of music and gardening with a set of Wireless Speakers that you can take outdoors. These stylish splashproof wireless speakers have been designed with a piano glossy black  finish and have a range of up to 100 metres. You can control them by remote, so you remain in control of the sound from wherever you are in the garden.
Perhaps you have a barbecue planned? Wouldn't it be nice to pipe the party music outside? These wireless indoor/outdoor speakers are the perfect way to enjoy your party music alfresco. It is possible to add upto eight pairs of these speakers to your system, so you won't have to keep repositioning them round the garden.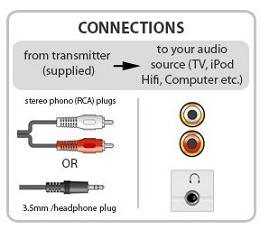 One of the main benefits of these speakers is that they are compatible with most audio sources; from your TV, DVD player, VCR and CD player to your radio, stereo system, computer, MP3 player or any alternative portable device. Simply connect the power adaptor and connection cable that are supplied with your speakers to your preferred audio device and listen to your favourite music outdoors. The remarkable sound quality, stylish design, portability and easy set up make these speakers perfect for enriching summertime BBQs and parties as well as providing a musical backdrop to serenade you through those outdoor gardening activities and DIY tasks.

---